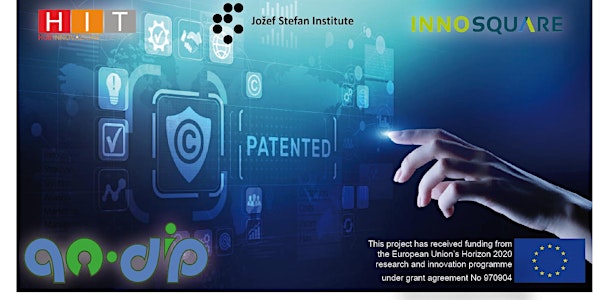 GO-DIP workshop series - 2nd: Legal aspects of Digital IP and data
IP protection, management and exploitation strategies for digital transformation in a series of 3 workshops
About this event
The digital transformation resulting from the implementation of Industry 4.0 changes the current IP management and understanding of the use of digital data.
The GO-DIP project aims to increase the competences of knowledge generators and intermediaries on how to protect and monetize digital IP and provide added value exploiting intangible assets such as data, methodologies, configuration of interconnected systems, 3D designs, processing algorithms. Moving towards digital a data-driven approach, embedded software into hardware, new questions arise concerning data sharing, data driven innovations, legal digital IP protection and data ownership.
Legal aspects of the digital IP protection and management
This second workshop of the series will provide useful guidance on digital IP issues commonly faced by SMEs. In a rapidly evolving digital age, businesses looking to protect their digital IP are indeed confronted with various opportunities and threats. Together with a panel of experts, we will address the question of how a typical IP management process needs to be adapted to the challenges of digitalization, including application fields such as AI and IoT.
Agenda
14.30-14.40 Welcome and introduction to the project Pascal Bovet & Michael Keller, Innosquare
14.40-15.10 Keynote - Legal aspects of digital IP protection and management Maud Fragnière, MLaw, Kasser Schlosser avocats SA
15.10-16.00 Roundtable: Discussion on best practices and tools. Panel of international experts including: Talia Bally, World Intellectual Property Organization - WIPO
16.00-17.00 Interactive Workshop: SMEs and Innovation agencies will have the opportunity to apply the brand-new IP Diagnostics Tool developed by the World Intellectual Property Organization (WIPO) to concrete cases of IP processes and adapt it to SME's needs in the digital age
The event is online and in English. Connection details to join the meeting will be shared few days in advance.