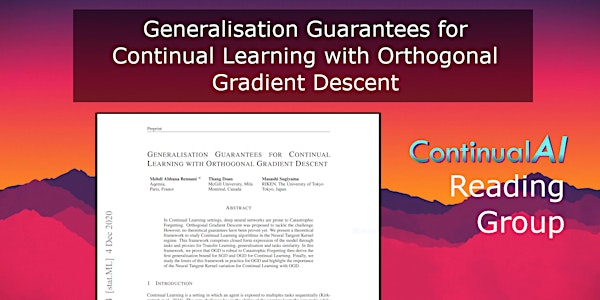 Generalisation Guarantees for CL with Orthogonal Gradient Descent
ContinualAI Reading Group: "Generalisation Guarantees for Continual Learning with Orthogonal Gradient Descent"
About this event
This event is free and open to everyone. It will be hosted on Google Meet: join us on slack to get the link (the #reading-group channel). Otherwise you can grab you ticket (link inside) with a voluntary donation (even just 1$ will do)!
Please consider that:
this is a community effort: the speakers & organizers of the event do not receive any compensation.
the full amount collected through donations will be used exclusively to face CAI costs for event hosting and community services.
--------- Event Description -----------
This Friday 5.30pm CET, for the ContinualAI Reading Group, Mehdi Abbana Bennani (Aqemia) will present the paper:
Title: Generalisation Guarantees for Continual Learning with Orthogonal Gradient Descent
Abstract: In Continual Learning settings, deep neural networks are prone to Catastrophic Forgetting. Orthogonal Gradient Descent was proposed to tackle the challenge. However, no theoretical guarantees have been proven yet. We present a theoretical framework to study Continual Learning algorithms in the Neural Tangent Kernel regime. This framework comprises closed form expression of the model through tasks and proxies for Transfer Learning, generalisation and tasks similarity. In this framework, we prove that OGD is robust to Catastrophic Forgetting then derive the first generalisation bound for SGD and OGD for Continual Learning. Finally, we study the limits of this framework in practice for OGD and highlight the importance of the Neural Tangent Kernel variation for Continual Learning with OGD.
The event will be moderated by: Vincenzo Lomonaco.
--------- ContinualAI Reading Group -----------
The ContinualAI Reading Group is hosted every Friday in collaboration with MILA and it is based on roughly 60 minutes discussion about a particular Continual Learning paper. Occasionally, a speaker is invited to explain his work.
Join our reading group on slack! It will be the occasion to talk with other researchers of this amazing field!
--------------- About ContinualAI ---------------
ContinualAI is an official non-profit research organization and the largest open community on Continual Learning for AI. We aim at connecting people and working better together on this fascinating topic we consider fundamental for the future of AI.
• Official website: https://www.continualai.org
• Join us now at https://www.continualai.org/join_us
Please consider supporting us with a small donation at: https://www.continualai.org/supporters
It's thanks to people like you that we are making ContinualAI a reality!