Games for Change Series : Seven Panel dedicated to Gamification and Contemporary Art, Cultural Heritage, Learning, Theater, Storytelling.
About this event
< EN >
VRE presents Games for Change Series a cycle of panel for exploring the Gaming as a multidisciplinary approach in Cultural, Artistic, Educational and Experiential field.
A new frontier destined to revolutionise the way we produce and spread culture.
During the panel we will deep dive into:
What do we mean when we talk about gamification?
How are museum spaces changing?
How has gamification changed the ways of access to the artworks?
What are the cognitive and social benefits of games?
How can videogames be used in the context of Educational and Learning?
Is Gaming an Innovative Storytelling?
How Gaming could enhance Cultural Heritage?
What are the new forms of art and what will they be?
How are the Arts affected by new technologies?
< IT>
VRE - Virtual Reality Experience presenta Games for Change Series, un ciclo di incontri che mirano ad esplorare l'uso della Gamification nell'Arte Contemporanea, nella Valorizzazione del Patrimonio, nel Learning, nello Storytelling e nel Teatro.
Una nuova frontiera destinata a rivoluzionare il modo in cui produciamo e diffondiamo la cultura.
Durante il panel approfondiremo:
Cosa intendiamo quando parliamo di Gamification?
Come stanno cambiando gli spazi museali?
In che modo la gamification ha cambiato le modalità di accesso alle opere d'arte?
Quali sono i vantaggi cognitivi e sociali dell'utilizzo del Gaming?
Come possono essere utilizzati i videogiochi nel contesto dell'educazione e dell'apprendimento?
Il gioco può diventare anche una forma innovativa di narrazione ?
In che modo il Gaming può valorizzare il patrimonio culturale?
Quali sono le nuove forme d'arte e quali saranno?
In che modo le arti sono influenzate dalle nuove tecnologie?
The Programme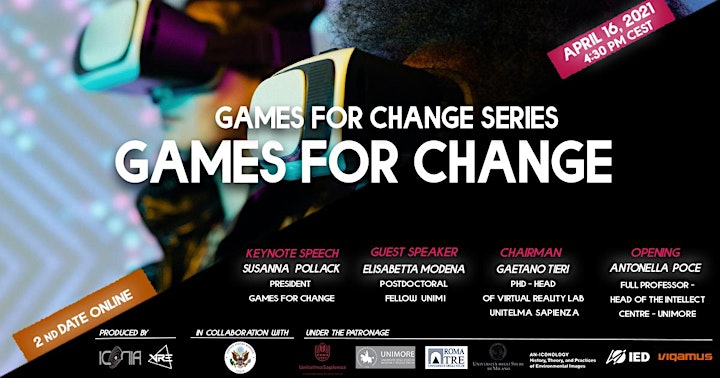 April 16, 4.30 pm CEST
Games for Change, a panel with Susanna Pollack - President at Games for Change and Elisabetta Modena - Postdoctoral Fellow - Unimi | Opening: Antonella Poce - Full Professor - Head of the Intellect Centre - Unimore | Chair: Gaetano Tieri - Phd - Head of Virtual Reality Lab - Unitelma Sapienza
This Panel, which gives the name to the project, attempts to explore how Gaming can be the driving force of change in the real world, how it could help people learn in a more effective way, improve their performances and grow specific experience or skills to spend in the real world.
The Panel will be in english with italian simultaneus translation.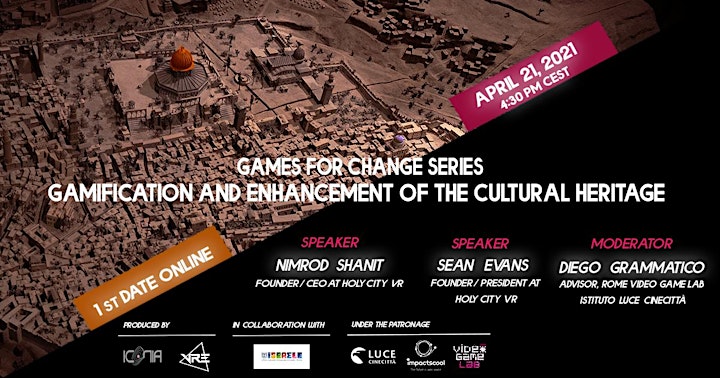 April 21, 4.30 pm CEST
Gamification and Enhancement of the Cultural Heritage a panel with Nimrod Shanit – Founder / CEO at Holy City VR and Blimey Ltd and Sean Evans – Founder / President at Holy City VR / Executive Producer at Occupied VR | Moderator: Diego Grammatico – Advisor, Rome Video Game Lab and Istituto Luce Cinecittà
Gamification applied to cultural heritage sites provides new opportunities of change in the educational and cultural sphere through a re-evaluation of the game experience as a tool for the creation of more engaging forms of entertainment. This allows users to better understand the history of places they are experiencing. An example of this is the great Interactive Virtual Reality Experience by Nimrod Shanit, executive director of The Holy City.
April 28, 4.30 pm CEST
E-Learning, Gamification and VR: a new cognitive approach a panel with Hanan Yaniv – Consultant at Afeka Tel Aviv Academic College of Engineering and Cristina Pozzi – CEO & Co-founder Impactscool, Social Entrepreneur spreading reflection on the Future and Ethics of Emerging Technologies | Moderator: Simone Arcagni – Associate professor at University of Palermo, curator, advisor, popularizing journalist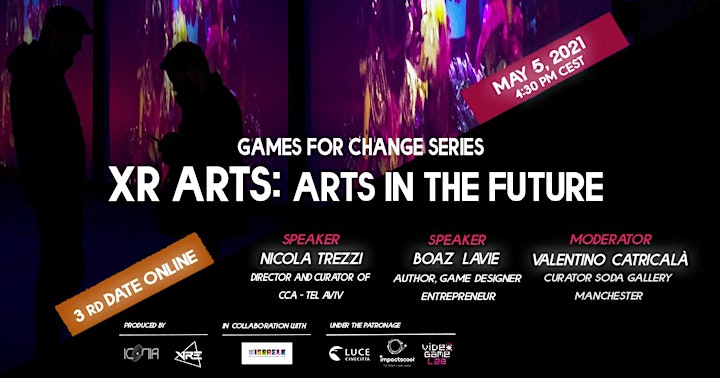 May 5, 4.30 pm CEST
XR Arts: Arts in the future, a panel with Boaz Lavie - Author, game designer and entrepreneur and Nicola Trezzi - Director of CCA – Centre of Contemporary Art di Tel Aviv e curator | Moderator: Valentino Catricalà: Curator SODA Gallery Manchester / Lecturer Manchester Metropolitan University / Dir. sez. arte Maker Faire – The European Edition / Art Consultant Paris Sony CS Lab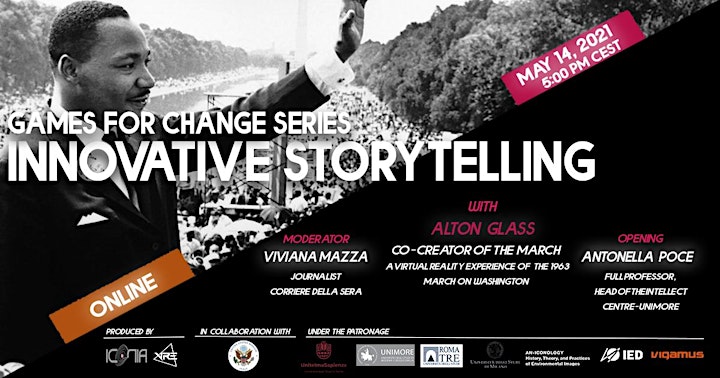 May 14, 5.00 pm CEST
Innovative storytelling, a panel with Alton Glass - Entrepreneur & Immersive Storyteller |Opening: Antonella Poce - Full Professor - Head of the Intellect Centre (Unimore) | Moderator: Viviana Mazza - Journalist, Corriere della Sera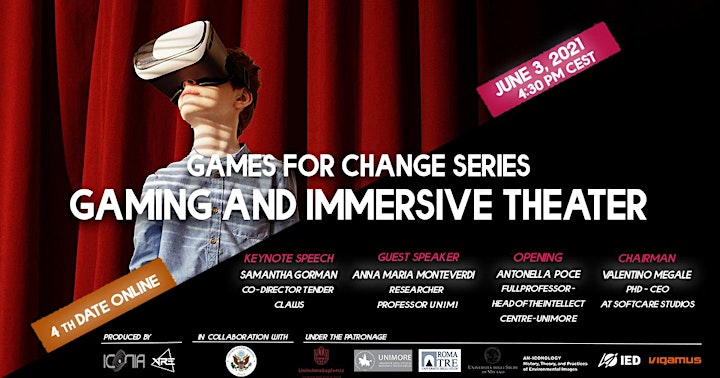 June 3, 4.30 pm CEST
Gaming and immersive Theater, a panel with Samantha Gorman - Co-Director Tender Claws/Professor Games+Theater Northeastern and Anna Maria Monteverdi - Researcher and Professor UNIMI | Opening: Antonella Poce - Full Professor - Head of the Intellect Centre (Unimore) | Chair: Valentino Megale - PhD - Digital Health entrepreneur | CEO at Softcare Studios Srls