Location
Università IULM
Aula 135 (terzo piano)
1 Via Carlo Bo
20143 Milano
Italy
Description
Università IULM (IULM 1)
Aula 135 (terzo piano)
Via Carlo Bo, 1
20143 Milan
Organizzati dal Master of Arts in Game Design dell'Università IULM, i GAME TALKS celebrano la cultura, l'arte e la creatività dei videogiochi attraverso presentazioni, performance e seminari gratuiti ed aperti al pubblico.
---
JOSEPH DELAPPE

POLITICA IN GIOCO: HEADSHOT!
La presentazione è in lingua inglese
In questo intervento, il media artist e attivista Joseph DeLappe racconta progetti, interventi e azioni creative che si collocano all'intersezione tra videogioco, arte, tecnologia e politica in differenti contesti geopolitici. Secondo DeLappe, il videogioco online costituisce una nuova tipologia di spazio pubblico, un palcoscenico virtuale all'interno della quale ha condotto negli ultimi quindici anni numerose performance, tra cui dead-in-iraq (2006), che prevedeva l'inserimento via chat dei nomi delle vittime militari statunitensi della guerra in Iraq nel videogioco di reclutamento online America's Army fino al recentissimo Elegy: GTA USA Gun Homicides (2018), una modifica del popolare action game di Rockstar Games, Grand Theft Auto V, che visualizza in tempo reale le statistiche sugli omicidi da arma da fuoco negli Stati Uniti.
Joseph DeLappe è Professor of Games and Tactical Media presso l'Abertay University di Dundee, Scozia. La sua pratica privilegia le performance di gioco online e in pubblico, la scultura partecipativa e le installazioni elettromeccaniche sono state esposte negli Stati Uniti e a livello internazionale. Ha creato installazioni site-specific per Eyebeam Art and Technology a New York, The Guangdong Museum of Art, Cina e Transitio MX, a Città del Messico, tra gli altri. Le sue opere e performance sono state citate su riviste accademiche, libri e mass media. Nel 2016 ha collaborato con il Biome Collective di Dundee per creare Killbox, un videogioco che tematizza l'uso dei droni finalista dei premi BAFTA 2017 nella categoria Best Computer Game. Nel 2017 ha ottenuto la Guggenheim Fellowship in the Fine Arts, uno dei riconoscimenti più prestigiosi per artisti, scrittori e creativi negli Stati Uniti.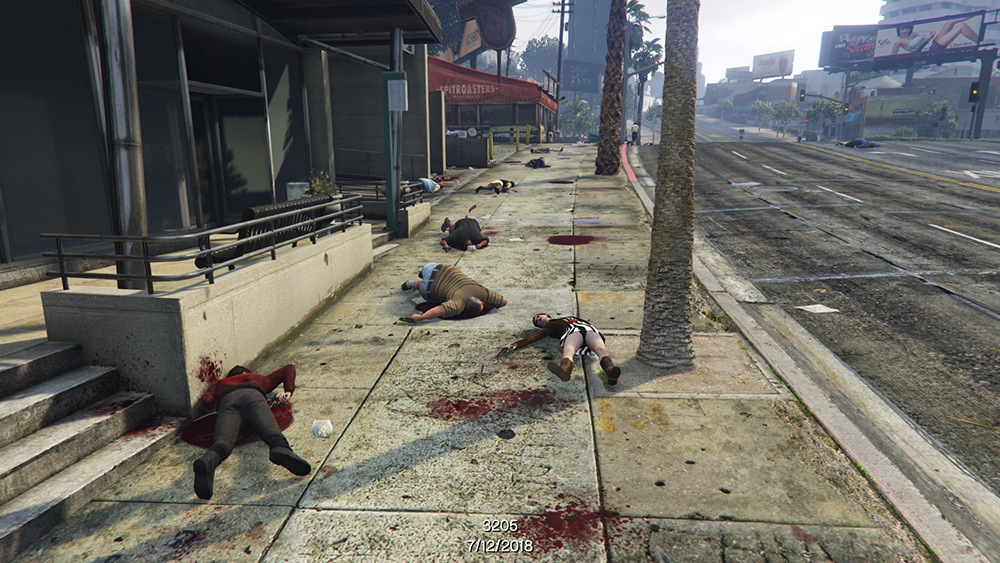 Joseph DeLappe, Elegy: GTA USA Gun Homicides screen shot, 2018-2019
---
Organized by the Master of Arts in Game Design at IULM University, GAME TALKS are lectures, presentations, and performances that celebrate the culture, art, and creativity of video games. All events are free and open to the public.
JOSEPH DELAPPE
PLAYING POLITICS: HEADSHOT!
The presentation is in English
In this talk, media artist and activist Joseph DeLappe will describe a lineage of creative projects and actions situated at the intersections of computer gaming, art/technology, and interventionist strategies engaging our geopolitical contexts. DeLappe will detail an approach to considering computer gaming environments online as a new type of public space; within which he has conducted a series of interventionist performances and actions, such as the 2006 project dead‐in‐iraq, to type consecutively, all names of America's military casualties from the war in Iraq into the America's Army first-person shooter online recruiting game. More recent projects include Elegy: GTA USA Gun Homicides (2018), a self-playing mod as a data visualizer of gun homicides in the United States as realized thru this hyper popular game title.

Joseph DeLappe is Professor of Games and Tactical Media at Abertay University in Dundee, Scotland. Works in online gaming performance, public engagements, participatory sculpture and electromechanical installation have been shown throughout the United States and internationally. He has developed works for venues such as Eyebeam Art and Technology in New York, The Guangdong Museum of Art, China and Transitio MX, Mexico City, among others. Creative works and actions have been featured widely in scholarly journals, books and in the popular media. In 2016 he collaborated with the Biome Collective in Dundee to create Killbox, a game about drone warfare that was nominated in 2017 for a BAFTA Scotland in the "Best Computer Game" category. In 2017 he was awarded Guggenheim Fellowship in the Fine Arts, one of the top awards for artists, writers and creatives in the United States.