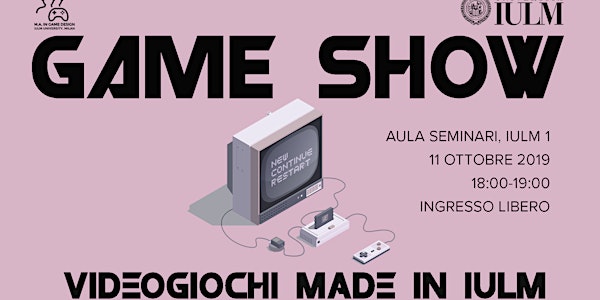 GAME SHOW
When and where
Location
Università IULM 1 Via Carlo Bo Aula Seminari (sesto piano) 20143 Milano Italy
Description
GAME SHOW 2019
Venerdì 11 ottobre 2019
dalle ore 18.00 alle ore 19.00
Aula Seminari, IULM 1, Sesto piano
Via Carlo Bo 1, 20143, Milano (come arrivare)
L'Università IULM celebra le opere interattive realizzate da una nuova generazione di game designers, i diplomati del Master of Arts in Game Design.
MILANO - Venerdì 11 ottobre dalle ore 18.00 presso l'Aula Seminari dell'Università IULM di Milano si terrà la seconda edizione di GAME SHOW, un evento aperto al pubblico nel quale saranno presentati i progetti realizzati dagli studenti del Master of Arts in Game Design durante l'anno accademico 2018-2019. Nel corso della cerimonia verranno inoltre consegnati i diplomi. Le opere presentate - che spaziano da sofisticati videogiochi a visual novels in bilico tra arte, design, narrazione e simulazione - dimostrano un notevole livello di ingegno e creatività.
Unico nel suo genere in Europa, il Master of Arts in Game Design è indirizzato a studenti desiderosi di creare esperienze ludiche e interattive di altissimo livello, capaci di comunicare idee ed emozioni profonde attraverso il gameplay. Il programma offre nove moduli tenuti da sviluppatori di videogiochi professionisti, designer, artisti e accademici di fama internazionale. Il Master Universitario di Primo Livello dell'Università IULM fornisce tutti gli strumenti necessari per intraprendere una carriera specialistica nel settore videoludico.
Per ulteriori informazioni, visitate il sito ufficiale.
---
GAME SHOW 2019
Friday October 11 2019, 6.00 - 7.00 PM
Aula Seminari (Seminar Room), IULM 1, sixth floor
Via Carlo Bo 1, 20143, Milan, Italy (directions)
IULM University is proud to present the projects developed by the graduating students of the M.A. in Game Design, a new generation of game designers.
MILAN, ITALY - Friday October 9, 2019, from 6 pm, IULM University will host the second edition of GAME SHOW, an event open to the public showcasing the projects developed by the students of the Master of Arts in Game Design in the 2018-2019 academic year. Ranging from advanced videogames to interactive novels situated at the intersection of design, storytelling and simulation, the works display a high level of ingenuity and creativity.
The Game Design M.A. program features some of the most talented designers, scholars, and authors working today who are highly committed to their research, practice, and teaching. It provides all the tools and skills needed for the development, distribution, and exhibition of cutting edge games and interactive experiences. Its instructional model is focused on nine core tracks and constant interaction with world-renowned faculty, visiting scholars, and group critiques with instructors and peers. Students will also take courses in game studies that address critical and aesthetic practices. Truly interdisciplinary in nature, the Game Design M.A. Program supports collaboration and meaningful exchange between the school's different departments..
For more information, please visit the official website.