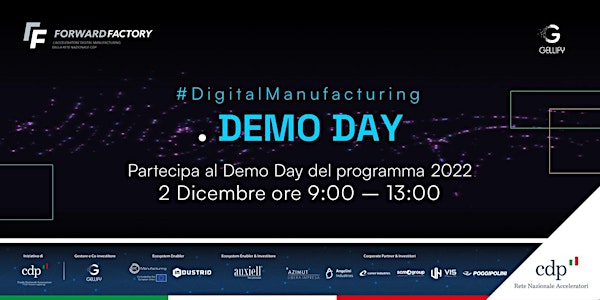 Forward Factory | DEMO DAY 2 Dicembre 2022
Forward Factory is CDP's accelerator dedicated to Digital Manufacturing and it is part of CDP's National Accelerators Network.
When and where
Location
GELLIFY 55 Via Isonzo 55/2 40033 Casalecchio di Reno Italy
About this event
Hi there!
We're thrilled to announce Forward Factory's DEMO DAY for the first batch 2022!
Forward Factory is Cassa Depositi e Prestiti's Digital Manufacturing program managed by GELLIFY.
The program is part of CDP's National Accelerator Network strategy to support the development of skills and entrepreneurship in the innovation sector and boasts a team of relevant partners:
Angelini Industries (Fameccanica), Comer Industries, SCM Group, VIS Hydraulics, Poggipolini, auxiell, Industrio Ventures and EIT Manufacturing, the European ecosystem of manufacturing players.
During the event, our founders will present their companies and the progresses they've made during the acceleration program.
👉 Register to receive the link to join the live streaming and learn about the projects developed by Forward Factory's 1st batch of startups!
🚀 The call for startups for the second batch 2023 is already open! Spread the world with this big news!!! Visit our website to learn more: https://forwardfactory.io/en/
AGENDA
9 – 9.30 | Welcome & Networking
9.30 – 9.35 | Opening with Lucia Chierchia, Manufacturing Lead @Forward Factory – Managing Partner @GELLIFY
9.35 - 9.40 | Program 2022 Behind the Scenes, with Andrea Landini, Program Director @ Forward Factory - Managing Partner @ GELLIFY
9.40 – 10.00 | STARTUP 1 – Pitch + Q&As
10.00 – 10.20 | STARTUP 2 – Pitch + Q&As
10.20 – 10.40 | STARTUP 3 – Pitch + Q&As
10.40 – 11.00 | STARTUP 4 – Pitch + Q&As
11.00 – 11.20 | Coffee break
11.20 – 11.40 | STARTUP 5 – Pitch + Q&As
11.40 – 12.00 | STARTUP 6 – Pitch + Q&As
12.00 – 12.20 | STARTUP 7 – Pitch + Q&As
12.20 – 13.00 | Closing & Networking