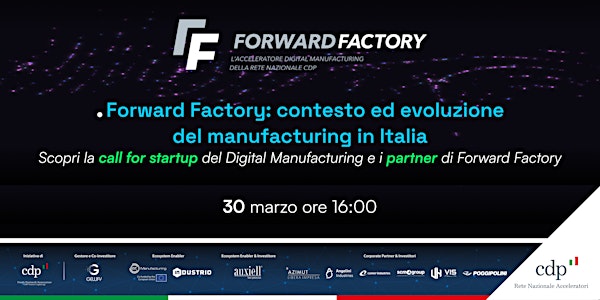 Forward Factory: contesto ed evoluzione del manufacturing in Italia
Scopri la call for startup del Digital Manufacturing e i partner di Forward Factory!
About this event
🚀 È aperta la call for startup di Forward Factory!
Forward Factory, l'acceleratore della Rete Nazionale Acceleratori Cassa Depositi e Prestiti e gestito da GELLIFY, è dedicato e pensato per startup che offrono innovazioni digitali in ambito Manifatturiero.
Per le startup selezionate vengono offerti:
165.000 € di investimento in equity dal 5% al 15%;
6 mesi di accelerazione con GELLIFY e le altre aziende partner
Creazione di un Proof Of Concept con aziende consolidate e partner del programma [Poggipolini, Angelini Industries, SCM Group, auxiell, Comer Industries, VIS Hydraulics];
Accesso al network di founder, Subject Matter Expert, investitori e mentor.
Per scoprire di più su Forward Factory, abbiamo creato una serie di eventi, il 30 marzo sarà l'ultima per incontrare il team che risponderà alle vostre domande durante la sessione di Live Q&A.
Per questa occasione, le corporate partner con le quali le startup svilupperanno il POC, saranno invitate a partecipare.
AGENDA
16:00 Welcome con Lucia Chierchia, Managing Partner @ GELLIFY , Manufacturing Lead @ Forward Factory
16:05 Contesto ed evoluzione del manufacturing in Italia - Lucia Chierchia
16:20 Partner del programma: tavola rotonda
Gabriele Solarini, Value Delivery Manager @ auxiell
Marco Storchi, Industrial Strategic Planning @ Comer
Paola Olivieri, Head of Business Development - Fameccanica
Michele Poggipolini, CEO @ Poggipolini
Alessandro Lupi, Plant Manager @ VIS Hydraulics
Marco Montecchi, Chief Financial Officier @ VIS Hydraulics
Federico Ratti, Group Technical Director @ SCM Group
16:50 Approfondimento sul programma- Giorgia Sterza, Program Manager @ Forward Factory
17:15 Q&A
L'evento si terrà online ed in lingua italiana.
👉 Riceverai il link alla diretta streaming alcuni giorni prima dell'evento.
***
🚀 A CHI E' RIVOLTA LA CALL FOR STARTUP?
Il programma è rivolto a startup in grado di offrire servizi digitali per innovare i processi produttivi manifatturieri attraverso blockchain, AR, VR, industrial IoT, AI e big data, cyber security, cloud computing e robotica digitale.
Visita il sito web di Forward Factory e scopri se la tua startup ha tutti i requisiti per candidarsi al programma 👉 https://forwardfactory.io/
***