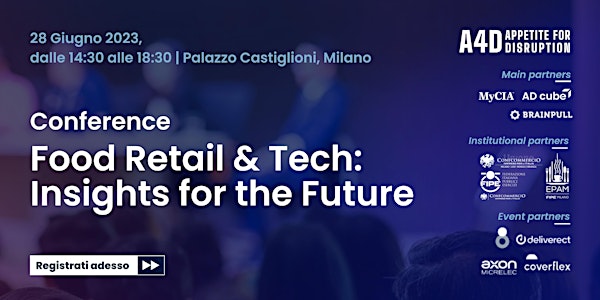 Food Retail & Tech: Insights for the Future
Uno dei più importanti appuntamenti in Italia dedicato ai leader del Food Retail, Food Tech e l'ecosistema di investors nel settore.
By Appetite for Disruption
Date and time
Wednesday, June 28 · 2:30 - 7pm CEST
Location
Palazzo Castiglioni 47 Corso Venezia 20121 Milano Italy
About this event
4 hours 30 minutes

Mobile eTicket
🚀 Food Retail & Tech: Insights for the Future: un'opportunità unica per connettersi con altri professionisti del settore, per discutere delle ultime tendenze e delle sfide più importanti che affrontano le aziende del Food Retail.
Sarà un'occasione per ascoltare i migliori esperti del settore, apprendere dai loro successi e fallimenti e acquisire una comprensione più profonda delle dinamiche del mercato del Food Retail e del Food Tech ed il punto di vista dell'ecosistema di investitori.
Oltre 15 speaker di fama internazionale provenienti dalla Francia, dalla Spagna e dall'Israele e un programma completo di keynote, panel di discussione e momenti di networking, concepito per aiutare i partecipanti a trarre il massimo beneficio dall'esperienza.
👉 Per saperne di più, consulta la pagina dedicata con aggiornamenti quotidiani cliccando qui
🗓 AGENDA
☕Check-in & Welcome Coffee | 14:30 - 15:00
🤝Opening Keynote
Cris Nulli, Founder, Appetite for Disruption
Giulia Cimpanelli, Giornalista, La Repubblica
Marco Barbieri, Segretario Generale Confcommercio Milano, Lodi, Monza e Brianza
💬️Industry Trends & Insights
Matteo Figura, Director Foodservice, Circana
🎙️Food Retail - Insights for The Future
Giulia Cimpanelli, Giornalista, La Repubblica
Andrea Valota, CEO & General Manager, La Piadineria
Sara Panza, General Manager, Grom – Il gelato come una volta
Domingo Iudice, Co-Founder, Pescaria
Stephane Cherel, General Manager, O'Tacos Corporation
💬️Industry Speech
Ezio Balarini, Chief Commercial Officer, QSR Platform
🎙️Food Tech - Innovations to Grow
Lidì Grimaldi, CEO, Interbrand
Chiara Bassi, Country Manager, Coverflex
Pietro Ruffoni, CEO & Founder, MyCia
Alessandro Nuara, CEO, AdCube
Ilario Colarossi, General Manager, Deliverect
Stefano Rossi, Business Development Director, Axon Micrelec
☕Coffee Break 25'
🎙️Investment Ecosystem - Partnering to Grow
Layla Pavone, Coordinatrice Board Innovazione Tecnologica e Trasformazione Digitale, Comune di Milano
Paola Bonomo, Consigliere Indipendente, Angel Investo, Advisor
Riccardo Fisogni, Vice President & General Manager, Eatable Adventure
Or Haviv, Partner & Head of Global Innovation, Arieli Capital
🚀Ariel Capital Open Call for AgTech and FoodTech Startups for Israel
Or Haviv, Partner & Head of Global Innovation, Arieli Capital
👋 Closing Remarks
Giulia Cimpanelli, Giornalista, La Repubblica
Cris Nulli, Founder, Appetite for Disruption
👥🥂 Networking Cocktail | 18:45
-------------------------------------
APPETITE FOR DISRUTPION - A platform to connect, innovate and grow businesses in the Food Retail & Tech Industry.
Appetite for Disruption è una piattaforma che mira a generare valore e connessioni all'interno del settore del Food, Food Retail e Food Tech, attraverso l'implementazione di progetti di Open Innovation. La piattaforma organizza diverse attività e produce contenuti di alto livello, come Conferenze, Eventi, Podcast, Playbook e Innovation Tours, al fine di creare un ambiente favorevole alla collaborazione e alla crescita nell'Industria.
👉 Seguici su Linkedin
Frequently asked questions
Quali sono le modalità di partecipazione alla conferenza? Online o in presenza?
Quali sono le lingue utilizzate durante la conferenza?
A chi è rivolta la conferenza?
Ci saranno sessioni di networking o possibilità di interagire con altri partecipanti?