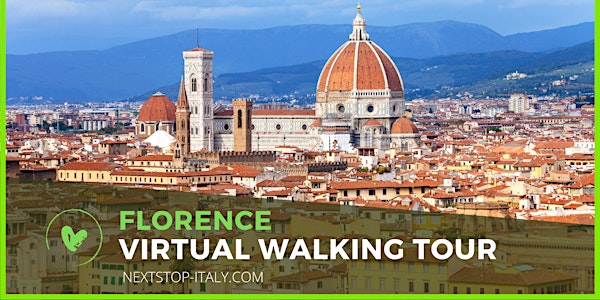 FLORENCE VIRTUAL WALKING TOUR - The cradle of the Renaissance
Discover the magnificence of one of the most fascinating cities in the world: Florence.
About this event
✈️REGISTRATION REQUIRED👉https://nextstop-italy.com/.../florence-virtual-walking.../
✨Discover the magnificence of one of the most fascinating cities in the world: Florence. Join our virtual walking tour, our guide will take you through the winding alleys and beautiful piazzas of this amazing city.
You will visit the best sights of Florence beginning at the Cathedral of Santa Maria del Fiore (Duomo) where you will learn about the dramatic and exciting story behind the architectural marvel of Brunelleschi's Dome.
Then you will walk through the picturesque streets of the historic center and you will stop at Piazza della Signoria, home of the imposing Palazzo Vecchio, the historic seat of the city government and the place where the artistic disputes of Michelangelo and Leonardo da Vinci took place and at at the end you will admire the iconic Ponte Vecchio bridge, famous for the unique goldsmith shops that frame the bridge on both sides.
👉Join us on this engaging experience of a virtual walking virtual tour! Stay comfortably seated on your sofa and get ready for something special.
Marvel at the historic monuments, piazzas and bridges that form the historic centre of Florence, our guide will lead you on a fascinating virtual walking tour .
So..what are you waiting for? Come discover the destination of your dreams!
⏰ WHEN:
- Sunday, 03 OCTOBER at 06.30 PM CET Rome time
⏱️ Check in your timezone! https://www.thetimezoneconverter.com/
The tour will last approximately 1 hour. At the end of the tour you will be given the chance to interact and make questions just like a live tour. The tour takes place in English.
⛈️In case of bad weather, the walking tour will be cancelled and rescheduled.
⏳Limited spots are available - register today to secure your spot!
HOW TO JOIN:
-The tour will be hosted on Zoom.
-After the registration, you will receive an invitation with the Zoom Meeting link.
⭐PRICE: How much does the virtual tour cost?
Our virtual tour is tip-based. We prefer a system where you don't have to pay for a ticket in advance without knowing how the virtual tour is going to be, instead, you take part in the tour first and at the end, you decide the price based on your satisfaction.
📺Can't watch our virtual tour live due to the time zone our are you unable to join us live? Register at the virtual tour and we will send you the recording hence you can watch it in your own time!
❤️ Check out all our Italy Virtual Tours : Italy awaits you!
#virtualtour #italytour #virtualevent
#tuscany #florence #virtualtour
Organizer of FLORENCE VIRTUAL WALKING TOUR - The cradle of the Renaissance