Fare Startup: "Mission Possible" anche in Italia

Tuesday, February 22, 2011 from 6:00 PM to 8:00 PM (CET)
Event Details
L'Associazione Italiana Fulbright e BAIA (Business Association Italia America) presentano il secondo evento dell'iniziativa Brainstorming Lounge con l'obiettivo di promuovere l'incontro tra giovani imprenditori, investitori, studenti e ricercatori appassionati di innovazione e coinvolti nella creazione di startup tecnologiche.
La registrazione all'evento e' gratuita e obbligatoria. 
Altre info sul sito www.brainstorminglounge.com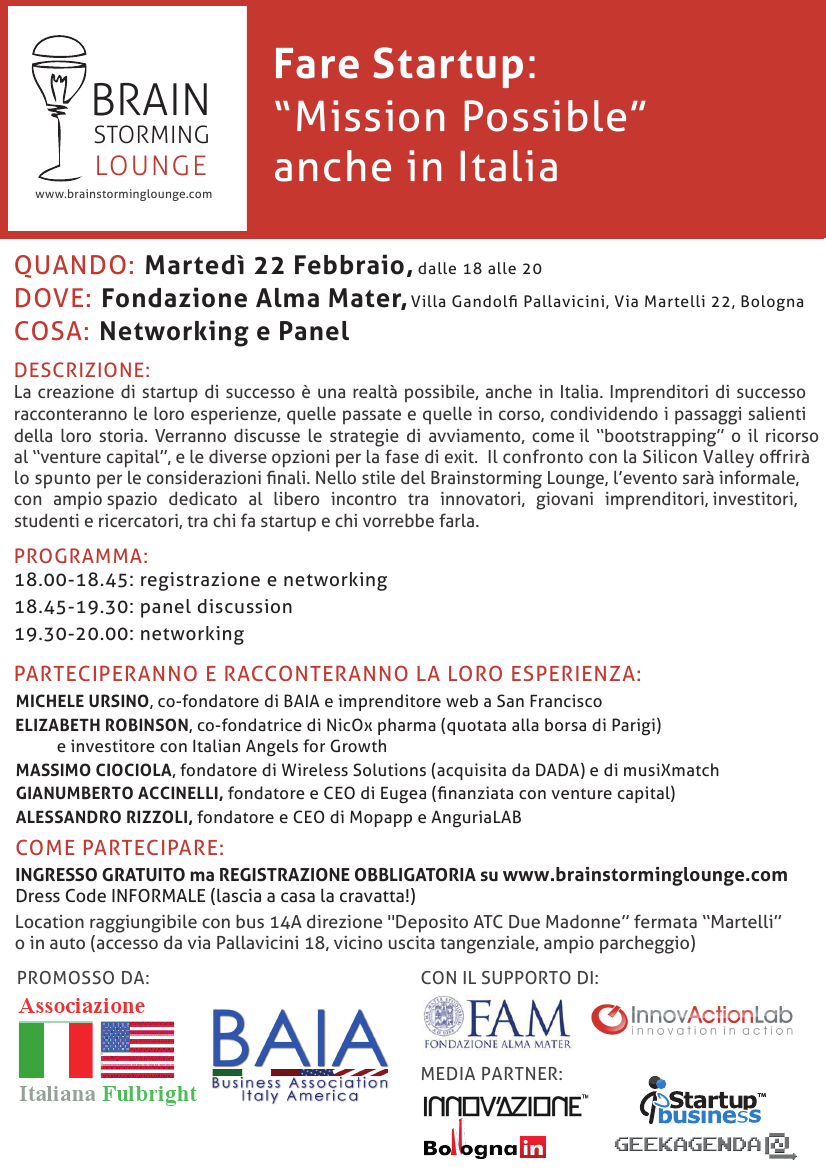 When & Where

Villa Gandolfi Pallavicini, Fondazione Alma Mater, Università di Bologna
via Martelli 22/24
Bologna
Italy


Tuesday, February 22, 2011 from 6:00 PM to 8:00 PM (CET)
Add to my calendar
Organizer
www.fulbrightitalia.it
Il senatore USA William Fulbright nel 1946, con lo scopo di partecipare al processo di pacificazione in Europa, istituì la Fondazione che porta il suo nome. Il Programma Fulbright ed il Piano Marshall furono congiuntamente parte di un disegno per la ricostruzione culturale l'uno ed economica l'altro.  Il Programma Fulbright, attraverso l'elargizione di borse di studio da 60 anni garantisce ai giovani un'istruzione accademica di eccellenza nei diversi campi del sapere. Le significative posizioni di rilievo, raggiunte da molti di coloro che hanno goduto di una borsa Fulbright, sono eloquente testimonianza dell'elevato valore di tale istruzione e della permanente validità degli scambi culturali tra l'Italia e gli USA: centinaia di accademici; vari Premi Nobel; decine di ambasciatori; numerosi  parlamentari. I Fulbrighters italiani hanno costituito l'omonima Associazione con lo scopo di offrire, ai semila ex-borsisti, l'opportunità di incontrarsi per continuare a tessere, alla luce della comune e preziosa esperienza statunitense, una rete sempre più fitta d'amicizie personali e professionali.
www.fulbrightitalia.it