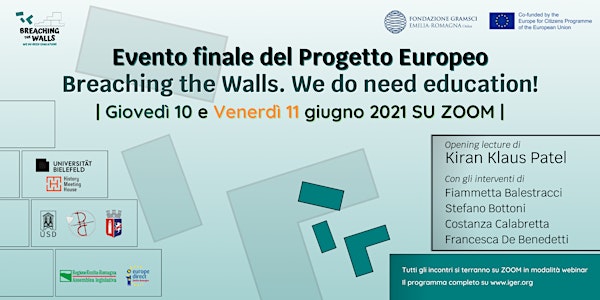 Evento finale progetto europeo Breaching the Walls! We do need education
La Fondazione Gramsci Emilia-Romagna è lieta di presentare l'evento finale del Progetto Europeo Breaching the Walls. We do need education!
About this event
Un progetto internazionale dedicato alla rielaborazione critica, attraverso un coinvolgimento plurale di istituzioni e cittadini, della storia e della memoria della caduta del Muro di Berlino e degli eventi da questa scatenati.
L'evento finale è previsto per giovedì 10 e venerdì 11 giugno 2021 interamente online su ZOOM
Il progetto è promosso dalla Fondazione Gramsci Emilia‐Romagna in qualità di capofila insieme a 5 partner:  l'Università di Bielefeld in Germania, L'Institute of Contemporary History di Praga, il Comune di Tirana, l'associazione Past/Not Past di  Parigi e l'Hisotry meeting House di Varsavia. Obiettivo del progetto è stato proporre una riflessione sulla memoria della caduta del  Muro di Berlino - il progetto si è avviato nel 2019 in occasione del trentesimo anniversario - e sull'impatto che  quell'evento ha esercitato nel processo di costruzione e sedimentazione dei valori di cittadinanza europea all'indomani del 1989. 
In questo contesto sono state previst  diverse azioni: eventi internazionali di riflessione sulle diverse "memorie europee", una raccolta di videointerviste a testimoni dell'epoca, la realizzazione di gruppi di discussione intergenerazionale, lo svolgimento di workshop dedicati agli studenti delle scuole superiori.
La varietà di queste azioni è stata finalizzata in parte a diffondere la conoscenza storica dei fatti del 1989 con rigore scientifico, in parte a stimolare una riflessione sull'Europa di oggi e sul significato ed il valore di essere cittadini europei.
Molti dei risultati fino ad ora raggiunti è possibile trovarli sul sito del progetto www.breachingthewalls.eu
Il convegno finale sarà inaugurato il pomeriggio di giovedì 10 giugno con una lecture a carattere  storico  di  Kiran  Klaus  Patel  (Ludwig  Maximilians  Universitat  Munich),  la  discussione proseguirà  per  tutta  la  giornata  di venerdì 11 giugno con il contributo di diversi storici e con una riflessione finale che vedrà la partecipazione di tutti i partner coinvolti nel progetto.
Tutti gli incontri si terranno su ZOOM in modalità webinar
È prevista la traduzione simultanea ENG/IT - IT/ENG
Più info su: http://www.iger.org/2021/06/03/evento-finale-progetto-europeo-breaching-the-wall/
IL PROGRAMMA
Giovedì 10 giugno
ORE 16.30
Saluti istituzionali
Carlo Galli, Presidente Fondazione Gramsci Emilia-Romagna
ORE 17.00
1989, the "German question" and European Integration
Opening lecture: Kiran Klaus Patel, Ludwig-Maximilians-Universität München
Discussant: Teresa Malice, Fondazione Gramsci Emilia-Romagna
Roberto Ventresca, Fondazione Gramsci Emilia-Romagna
L'evento si terrà in inglese con traduzione simultanea
Venerdì 11 giugno
ORE 10.00
Il 1989 e le sue conseguenze: l'Europa centro-orientale
Stefano Bottoni, Università di Firenze
dialoga con Francesca De Benedetti, Giornalista di "Domani"
Introduce: Teresa Malice, Fondazione Gramsci Emilia-Romagna
ORE 15.30
Rivoluzione pacifica, caduta del Muro, riunificazione: culture della memoria nella Germania europea
Costanza Calabretta, ITIS Vallauri – Velletri dialoga con Fiammetta Balestracci, Fondazione Istituto Piemontese Antonio Gramsci Onlus Torino
Introduce: Roberto Ventresca, Fondazione Gramsci Emilia-Romagna
ORE 17.30
Riflessioni dei partner di progetto. L'esperienza di Breaching the Walls!