About this Event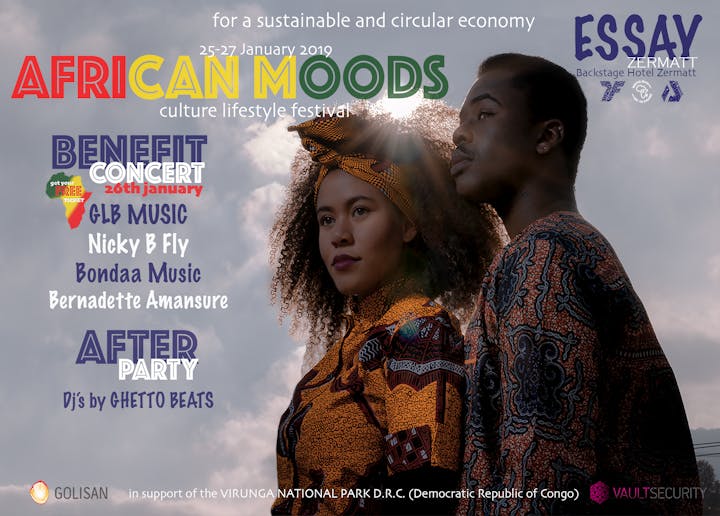 During the Essay Culture Lifestyle Festival, we grant a once in a lifetime opportunity to Social Entrepreneurs.
Essaz Zermatt, Workshops and Interactions Connecting exhibitors with visitors.
During three days a selected few will have access to workshops such as "Storytelling", "Visual Arts", "Photography", "Film Making", Live Painting", "Music Arts", "Post Production", "General Agronomy", "African Fashion Design", "Bootcamps", "Software Digitalisation", "Social Marketing Networking", "Chances in Impact Funding", "Scaling for Impact" or "Blockchain for your social business".
Essay Zermatt, Pitch Festival for Start-ups, Entrepeneurs and Investors.
Essay is open to national and international start-ups that are developing and/or applying deep technologies – science and engineering driven technologies such as Blockchain.
During the Festival, the selected entrepreneurs will receive support by sponsors and experts out of the Swiss innovation ecosystem, will get in touch with investors and will take part in collaboration workshops.
No Requirements
Applications are welcome from start-ups based anywhere in the world or within Switzerland. Focusing in Circular Economy corner solutions.
Info: force7force@gmail.com

17.30-19.00, WELCOME AND ROUND TABLE
Round Table Talk
Angel Bashile, Founder of Force-Force
Urs Althaus, Actor, Model and Writer
Jesus Sanchez, GLB
Melanie Hanimann, Fashion Agent
Arman Sarhaddar, Founder and CEO of Vault Security Systems AG and Golisan GmbH
Philip Briscoe, Keeper of the Philosopher's Stone
Ramito Molina, Energy Coach
Angela Siciliano, Producer of Bags and Accessories
Davide Negri, Business Developer
19.30-22.00, CINE-DINNER (optional)
"Black Panther", Ryan Coogler, 2018
"The movie ticket, a homemade aperitif, and a 3-course menu are included in the price of CHF 89.00. Wine, water, coffee and spirits will be charged separately." From Backstage Hotel Website
22.45-02.30, COCKTAILS AND DREAMS
Presentation of artists and entrepreuners

8.00-18.00, WORKSHOP
SPORT & LIFESTYLE
• 09.00-9.30, Mindful Expirience, Morning Meditation
o Aliki Ko, Coach
• 10.00-11.00, The Epic Healthflow Expirience, Yoga;
o Amira Abdel-Dayem , The Epic Healthflow Expirience
• 17.00-17.30, Seleandra Healing Beauty;
o Seleandra Corinne;
• 11.30-12.00, Chakra Healing;
o Ramito Molina, Energy Coach;
MUSIC & VISUAL ARTS
• 14.00-17.00, Photography for Beginners, Take your own pics;
o Sandro Moesli, SAMOPHO
• 11.00-18.00, Live Photo, Make your own lookbook;
o Force-Force Team
• 14.00-17.00, Filmmaking, One Man Show;
o Marcus Rosenburg, Suisse Drone Pictures
• 15.00-17.00, Writers Scripts, Song Writers, Lyrics And Poems;
o Nicky B Fly
• 17.00-18.00, Keeper of the Philosopher's Stone, Lecture,
o Philip Briscoe, Angel of Art
CIRCULAR ECONOMY
• 10.00-18.00, Slow Fashion, New Trends , Upcycling And Recycling;
o Angela Siciliano, Atelier Angela Siciliano
o Davide Negri, 77denari
o Qassi Rachid, Rafiq
o Anne Larcher, Aidfashion
DIGITALIZATION
• 16.00-17.30, Viral-Social Marketing Campaign
o Force-Force Team
19.00-22.00, SHOW-DINNER
Introduction of Angelyne Larcher, Swiss Entrepreneurs Magazine
Pitch time for start-ups, small-medium size entreprises, artists, No-Profit Organization for circular economy and sustainable development
77denari, Project of development of Silksprinted Tights
Aidfashion, Business description
Downhill Retreats, Startup project in Sport Tourism
Force7Force, Startup project in Social Web Services
FORCE MADE AFRICA, Startup Project in African Sport Fashion Brand
Atelier Angela Sicilian, Upcycling and Recycling Bags and Accessories
Hanimanns Ghana, Business Concept Textile Manifacture Plant in Ghana
Lecture by the book "Ich, der Neger", Urs Althaus
22.30-03.00, GHETTO BEATS BENEFIT CONCERT IN SUPPORT OF VIRUNGA NATIONAL PARK D.R.C. (Democratic Republic of Congo)
Dance Performance by Vanity Dancers
23.00, GLB Music, R&B
00.00, Nicky B Fly, Afro Beats and R&B
01.30, DJ Session of Ghetto Beats, Miscellaneus
For donation: paypal.me/forceforce

09.00 -11.00, WORKSHOP
SPORT & LIFESTYLE
9.30-10.00, Meditation, Seleandra Corinne;
10.00-11.00, Energy Art, Ramito Molina, Energy Coach;
11.00 -13.00, BRUNCH, NETWORKING AND MEET UP POINT
MUSIC & VISUAL ARTS
15.45-16.00, CLOSING SPEECH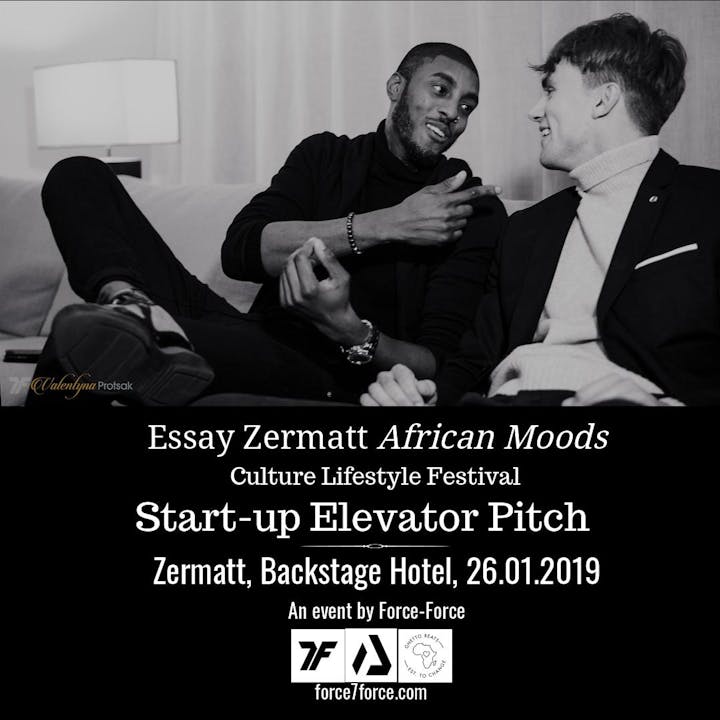 The General Admission Ticket includes
access to all events of the Festival (25-27.01.2019)
discount on the purchase of products of the designers and producers
service in finding an accommodation
The General Admission Ticket does not include
Meals and Drinks
Transport
Anything not explicitly mentioned in "The General Admission Ticket includes"
AND YOU?
If you like our project and the themes proposed, we are open to new participants and supporters:
Artists (in music, visual arts, etc.)
Athletes (individual or team) and Fashion-Sports brand
Artisans and Professionals
Video makers, Producers
Photographs, Live Performances
Accelerators or Incubators
Start-ups, individuals or groups with ideas in circular economy and healthcare business development
Sponsorship Opportunities
Would you and/or your company or organization like to support Essay Zermatt?
Be a part of the first cultural and entertainment lifestyle event of its kind in the greater Zermatt. Corporate sponsors of the Essay Zermatt - African Moods are uniquely positioned to reach the different communities through multi-tiered media exposure and on-site branding opportunities throughout the Festival.
For more information on how you can sponsor the Festival, link here: Sponsorship and Service Program.
Accomodation
Those are some recommendations for your nights in Zermatt:
https://www.the-omnia.com (5 stars Luxury Hotel)
https://www.backstagehotel.ch (4 starts Architecture Design Hotel)
https://www.firefly-zermatt.ch (4 Stars Luxury Suite Hotel)
http://www.hotel-bristol.ch (3 stars nice Hotel with a familiar touch)
https://www.youthhostel.ch/de/hostels/zermatt (nice low butget option)
https://matterhornhostel.com/ (from 35 CHF/per night)
https://www.chaletzermattpeak.com/ (villa for a couple of days)
http://www.taescherhof.ch/
http://www.taesch-walliserhof.ch/hotel/
For any request contact Davide Negri, force7force@gmail.com
Information contact:
Angel Bashile (DE, ENG, SPA, FR, POR), force7force@gmail.com
Davide Negri (SPA, ITA, ENG), force7force@gmail.com
Letter of presentation
Dear Sir / Madam,
We are a start-up called Force-Force that acts as a facilitator of sustainable development and funding in the fields of fashion, sport, visual arts, and music. In this regard, our online magazine Force7Force is a means of giving more visibility to individuals who develop their activities in these areas of expertise.
Bearing this in mind, we are organizing an event entitled "Essay Zermatt – African Moods: Culture Lifestyle Festival for a Sustainable and Circular Economy" from25.01.2019 to 27.01.2019 in Zermatt and we would like to invite you to be present at this event.
With this event we have the intention of creating opportunities to make social changes, to contribute to socio-economics and to achieve sustainable development goals.
Therefore, we believe solidarity and sustainability are a way of solving social problems and of fostering cultural and educational programs in African communities around the world. There you can also observe how it is possible to make a symbiosis between biodiversity, nature, sustainable energy, and industrialization.
In our perspective, this Festival represents an opportunity to take action in order to favor social and economic changes. Therefore, we would be very happy if you accept to develop a partnership with Force-Force. Your cooperation as well as your investment in this project would contribute to our mission.
In case you need further details, please feel free to contact us.
Best regards,
Force-Force