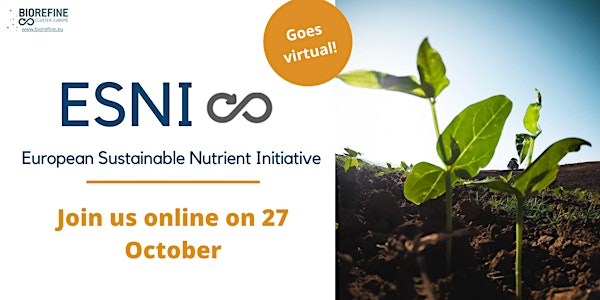 ESNI - European Sustainable Nutrient Event
A landmark event on nutrient recycling and reuse
About this event
Nutrient recovery and reuse from organic residues, such a manure, sewage sludge and food waste has been recognized as a crucial component of the European Union's Circular Economy Strategy. At the moment, nutrients such as nitrogen and phosphorus are lost along the entire food chain. Closing the nutrient cycles can boost the bio-economy efforts in the EU and provide societal benefits. 
Due to the prevailing conditions of the coronavirus pandemic, the European Sustainable Nutrient Initiative (ESNI) will be organised as a digital conference. This virtual edition, which will take place the next 27 October, will provide space for discussion and exchange on benefits of nutrient recycling as an essential component of the circular economy.
On 27 October, the second edition of the ESNI conference (European Sustainable Nutrient Initiative) will offer you a comprehensive overview on the benefits of nutrient recycling to boost agriculture, novel food production and sustainable development. Policy-makers, researchers, industry representatives and many other stakeholders will discuss how to raise awareness on the benefits of nutrient recycling and reuse (NRR). Parallel sessions will be dedicated to policy measures, innovative solutions and technological developments on nutrient recycling.
Do not miss the opportunity to attend these events aimed to put nutrient recycling high on the EU circular economy agenda! Details on the programs will come soon..
Poster session
A poster session will complement the ESNI Conference providing insights on the most relevant initiatives promoting nutrient recycling in Europe.Check here and discover how to participate!