DEAS Project - Enhancing availability, usability and processing of Open Data in Alpine area in coordination with EU strategies
About this event
THE PROJECT:
Scope of DEAS is to improve the value of using open data for public service and business, raise competitiveness of the Alpine space areas with their exploitation and improve the Alpine Digital Agenda. DEAS will strengthen the impact of the digital single market strategy&action plan focusing on alpine strategic sectors which can benefit from the use of open data, such as climate protection, tourism&culture and mobility. With DEAS project, the public & private sectors will boost the creation of new disruptive and customer-oriented services/products for citizens, tourists and entrepreneurs.
THE EVENT:
EU representatives meet DEAS project partners to share strategies and priorities on Open Data in the Alpine space. The DEAS platform, APIs used, toolkits, local software and products will be presented, along with case studies from the mobility, tourism and environment sectors.
The meeting will be held in Brussels, by invitation (Welcome coffee at 09:00). It will be possible to attend it online (starting at 09:30). For participants in Brussels, a light lunch will follow (starting at 13:15).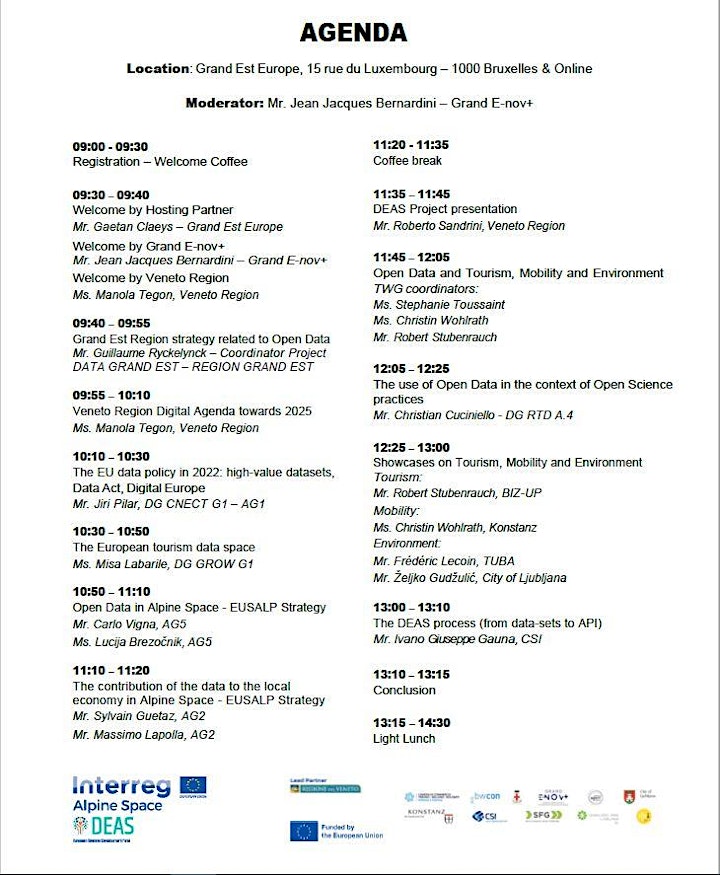 PROJECT DETAILS:
The event will be hold in english