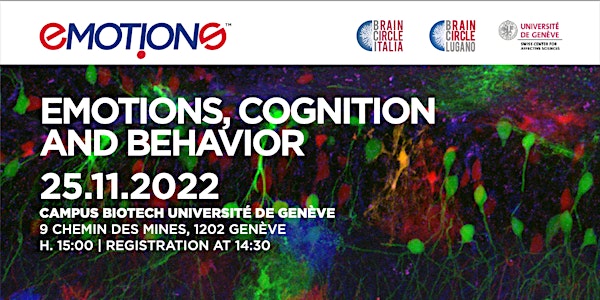 Emotions, cognition and behavior - Emotions Geneva
Six internationally renowned women scientists debate the influence of emotion on our behavior covering several important topics
When and where
Location
Campus Biotech, Chem. des Mines 9 9 Chemin des Mines 1202 Genève Switzerland
About this event
For a long time, emotions have been considered a source of "negative" disruption to the "positive" rational human behavior. After many years of research, evidence does not support this naïve perspective anymore. Emotions are biological and psychological adaptive mechanisms that represent an essential part of our ability to cope with the environment and live a good personal and social life. Although emotions can sometimes be unpleasant, they provide critical information and a priceless guidance for everybody. Emotions profoundly influence our behavior and cognition, and recent innovative studies are clarifying these crucial relationships.
On the occasion of the Geneva event of the Emotions tour, co-organized by the University of Geneva Swiss Center for Affective Sciences, BrainCircle Italia and BrainCircle Lugano, six internationally renowned women scientists will discuss the influence of emotion on our behavior, covering several important topics: the role of emotions in politics and how empathy and curiosity can strengthen social bonds, the impact of smells on our emotions, the emotional consequences of traumatic experiences, and the importance of being emotionally flexible. The links between emotions and behavior will be examined from psychological, philosophical, and neuroscientific perspectives, and artistic performances related to the topics discussed will punctuate the event.
This is the last meeting of the Emotions project, which opened in 2021 in Jerusalem and has traveled to nine European cities. In all the meetings, emotions were discussed from a different angle, and the invited speakers were some of the most prominent international scientists. The project, created by Viviana Kasam, president of BrainCircleItalia and BrainCircleLugano, in collaboration with Ticino-based science journalist Clara Caverzasio, and scientists Daniela Perani, Hermona Soreq, and Bianca Jones Marlin, was carried out in each of the host cities in collaboration with a prestigious local research center.
Program
Introduction: David Sander (Swiss Center for Affective Sciences, University of Geneva) and Viviana Kasam (president BrainCircle Italia)
Chair: Cristina Soriano (Swiss Center for Affective Sciences, University of Geneva)
Eva Illouz: Emotions against democracy? A proposal
Lisa Bortolotti: Curiosity and empathy: how we develop good relationships and enable positive change
Hermona Soreq: The hidden long-term impact of traumatic experiences
Julie Péron: Long Covid: understanding the cognitive and emotional effects
Géraldine Coppin: The underestimated richness of the olfactory world
Carien Van Reekum: Being emotionally flexible
Sound artist and musician Olga Kokcharova will create live original compositions inspired by the way emotions are experienced in contemporary society, with texts and voices by Annette Schmucki.
-------
The BrainForum will take place at Campus Biotech, Université de Genève, starting at 15.00 local time (open doors and on-site registration at 14.30).
Admission is free and open to all, but advanced registration is required to secure a seat.