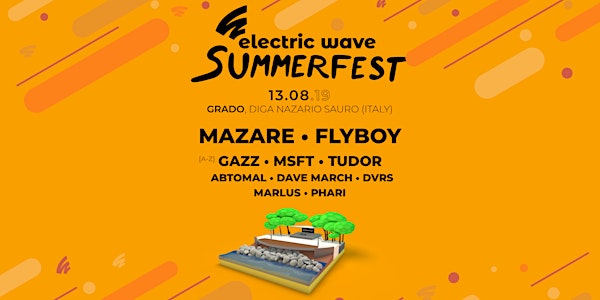 Electric Wave Summerfest 2019
When and where
Location
Diga e lungomare Nazario Sauro 34073 Grado Italy
Description
Electric Wave Summerfest 2019
[ENG]
Sea, sun and electronic music, those are the main features of Electric Wave Summerfest.
Take part with your friends to this unique event, based in the amazing location of "Lungomare Nazario Sauro" in Grado, Italy.
The only thing that matters is you to have fun.
EW Summerfest 2019 will be FREE ENTRY, but the location is limited to 1200 people so if you wanna be sure to party with us, please register on Eventbrite, you'll receive a QR code so you'll be able to skip the line if it will be necessary.


Get updates about this and other events following us on Instagram and if you have any question feel free to write to us in DM.
---
[ITA]
Mare, sole e musica elettronica, sono gli elementi che caratterizzano l'Electric Wave Summerfest.
Prendi parte assieme ai tuoi amici ad un evento unico nel suo genere che si svolgerà nella magnifica location "Lungomare Nazario Sauro" di Grado.
L'unica cosa che conta è divertirsi, non perdere l'occasione.
L'evento sarà FREE ENTRY ma a chi dovesse venire da lontano consigliamo di registrarsi su Eventbrite, perchè la capienza massima del luogo è di 1200 persone e quindi avrete la possibilità di saltare la fila, nel caso fosse necessario, utilizzando il codice QR che si genera in automatico da Eventbrite.


Per ricevere aggiornamenti su questo ed altri eventi seguici su Instagram e se dovessi avere qualche domanda non esitare a scriverci un DM.