DOCUMENT & PROCESS MANAGEMENT: una strategia che ti semplifica la vita! | Xenesys Arxivar Firenze | 3 novembre 2011

Thursday, November 3, 2011 from 9:30 AM to 5:00 PM (CET)
Event Details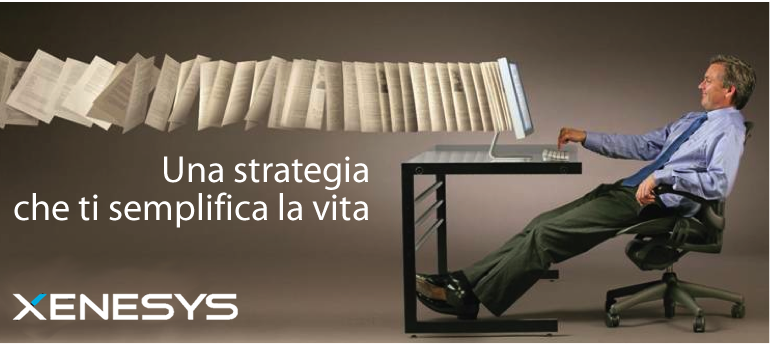 DOCUMENT & PROCESS MANAGEMENT
UNA STRATEGIA CHE TI SEMPLIFICA LA VITA
disegna i processi, gestisci i documenti e riduci i costi con un'unica soluzione immediata, intuitiva ed economica

giovedì 3 NOVEMBRE 2011
alle ore 9.30
oppure
alle ore 14.30
presso NOVOTEL FIRENZE
Via Tevere 23, 50019 SESTO FIORENTINO (FI), zona Osmannoro
La partecipazione all'evento è gratuita

Ciascuna sessione dura meno di 3 ore.
Con un Document & Process Management efficace:
•  gestisci facilmente i documenti aziendali,
•  realizzi l'archiviazione sostitutiva eliminando la carta,
•  condividi istantaneamente i documenti con tutte le persone in azienda,
•  recuperi efficienza e rientri dell'investimento in meno di un anno, dedicando più tempo alle strategie e meno tempo ai controlli.
Per maggiori informazioni, contattare Rolando Ferri (rolando.ferri@xenesys.it, mob. 345 5661438)
 Scopri come arrivare al Novotel qui | Chi è Xenesys | Cosa è Arxivar | Alcune referenze
AGENDA DELL'EVENTO
INTRODUZIONE
·    L'azienda oggi: strumenti informativi diversi e dati destrutturati
·    La strutturazione dell'organizzazione e delle informazioni
·    L'azienda event-driven: guidata dagli eventi e gestita per processi, integrati con il gestionale e con il sistema informativo in uso
DOCUMENT & CONTENT MANAGEMENT
·    Costruzione e consultazione dell'archivio: strumenti di cattura e integrazioni con applicazioni esterne
·    Navigazione ad albero dei documenti, navigazione elettronica per associazione, fascicolazione automatica, pratiche e commesse
·    Interpretazione dei contenuti dei documenti, micro-google aziendale, interrogazione per contenuto, interrogazioni miste profilo-contenuto
CONSERVAZIONE SOSTITUTIVA
·    Valore gestionale e valore legale dell'informazione e del documento
·    Conservazione sostitutiva in house e in outsourcing
·    La conservazione sostitutiva come driver per l'organizzazione dell'azienda
WORKFLOW MANAGEMENT
·    L'azienda che lavora per processi
·    Ogni evento (interno e/o esterno all'azienda) genera un processo
·    Il workflow come strumento di disegno|automazione dei processi
·    Workflow a cascata e workflow nidificati
·    Simulazione di casi concreti
·    Integrazione con il gestionale (ERP)|sistema informativo in uso nella vostra azienda
·    Gli strumenti di controllo: controllo attivo e analisi dei colli di bottiglia e controllo proattivo e Key Performance Index (KPI)
IL PROGETTO DI BPM
·    Progettare il BPM su misura per la propria azienda
·    Pensare in grande ed agire in piccolo: il progetto pilota
·    Metodologia e strumenti di calcolo del ROI per l'azienda
Have questions about DOCUMENT & PROCESS MANAGEMENT: una strategia che ti semplifica la vita! | Xenesys Arxivar Firenze | 3 novembre 2011?
Contact Xenesys
When & Where

Firenze
Sesto Fiorentino, Via Tevere 23
50019 Firenze
Italy


Thursday, November 3, 2011 from 9:30 AM to 5:00 PM (CET)
Add to my calendar
Organizer
Xenesys è un solution e service integrator che offre soluzioni e servizi IT alle imprese del fashion, del retail, del lusso, deldesign e a quelle marketing-intensive di tutta Italia.
L'ampia offerta multibrand garantisce al cliente neutralità nella proposta delle soluzioni, l'approccio proattivo assicura al cliente le migliori tecnologie sulla base delle sue esigenze di flessibilità ed efficienza. La sua struttura, fatta di persone competenti e costantemente aggiornate sulle più recenti innovazioni tecnologiche, fa di Xenesys il partner ideale per l'information technology.