Event Information
Refund policy
Contact the organizer to request a refund.
Eventbrite's fee is nonrefundable.
A six-week guided reading of the Divine Comedy to delve into the beauty, power, and universality of this poetic masterpiece.
About this event
As we celebrate 700 years of Dante it is clear that his epic poem, the Divine Comedy, is more relevant than ever. A story of hitting rock bottom and making the arduous but joyful climb up to the stars, Dante's tale is proof that the only way out is through.
Each 60-minute lecture will take place live on Zoom—a recording will also be sent to all participants the following day that they may access for the duration of the course, so no need to worry if you can't make the live. Following each lecture participants can log-off, or choose to stay on for a 30-minute discussion session--completely up to you!
The course will be conducted in English and all levels of Dante knowledge (or non!) are welcome.
Upon registration you will receive an email with details about Zoom links and other relevant information for the course, including a suggested translation.
Divine Dante is led by Alexandra Lawrence, an expert in the language and art of Italy. Based in Florence, Alexandra is a lecturer of art history and contemporary Italian cultural studies, and is an accredited guide for Italian museums and archeological sites. While completing her graduate work in Italian Language and Literature, she concentrated primarily on writers and poets and their relationship to the visual arts. In 2020, she founded Forma Sideris, a space to have guided conversations about Italy and its art, literature, culture, and history.
DIVINE DANTE COURSE OUTLINE
7 January 2021 at 7pm CET
Inferno I-XX: A dark wood, three ferocious beasts, and the ever-patient Virgil start us off on our journey where we will encounter the infamously lustful Francesca and many more flaming, writhing (but also extremely talkative) souls as we make our way through the over-crowded, cacophonous and imaginative circles of Dante's hell.
14 January 2021 at 7pm CET
Inferno XXI-XXXIV: Thieves, deceiving demons, fiery serpents, and towering giants greet us on our decent to the deepest part of the Christian underworld, where we will ultimately meet its ruler—Lucifer—face-to-face.
21 January 2021 at 7pm CET
Purgatory I-XVI: Though the ultimate goal is heaven, most must first cleanse their souls through the difficult process of purgation brilliantly outlined by Dante. We will begin to climb the mountain of Purgatory in the company of officious angels who instruct on making the most of one's time in this temporary space.
28 January 2021 at 7pm CET
Purgatory XVII-XXXIII: Here we enter the Garden of Eden where Dante reunites with the one and only Beatrice, his beloved angel-woman who will take over as his guide through the realms of heaven.
4 February 2021 at 7pm CET
Paradiso I-XX: We join Dante and Beatrice on their rise through the spheres of air, fire, the moon, and all of the planets encountering the souls of the blessed along the way.
11 February 2021 at 7pm CET
Paradiso XXI-XXXIII: The final part of our journey takes us through the Fixed Stars, the Primum Mobile and the hierarchy of angels, the Empyrean and the mystical rose, to the ultimate destination—standing in the middle of the all-encompassing, pure, and blinding light of Love.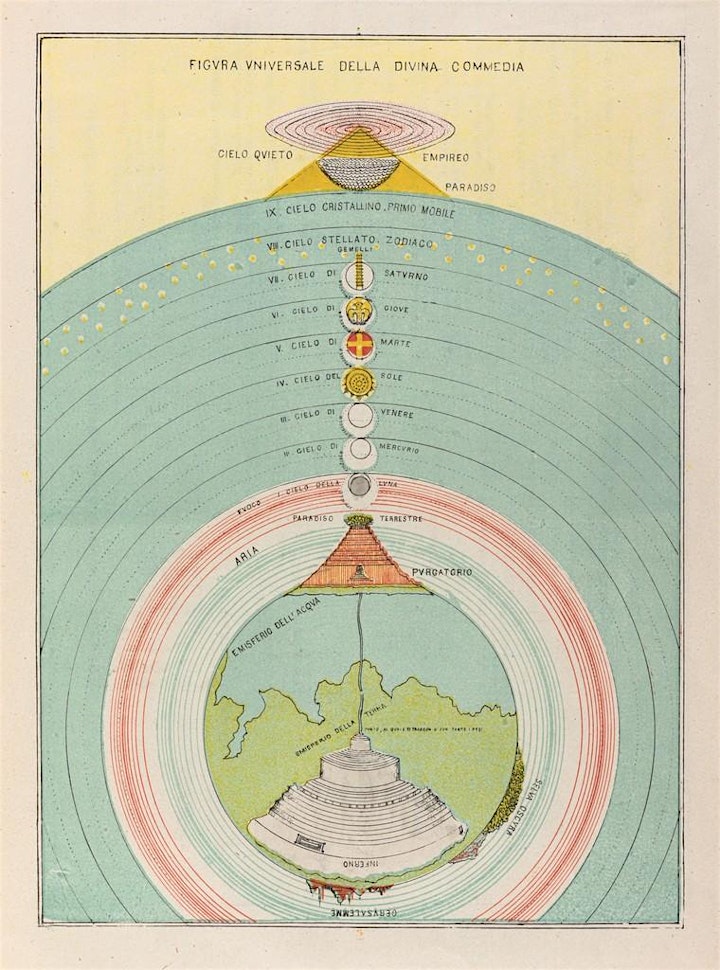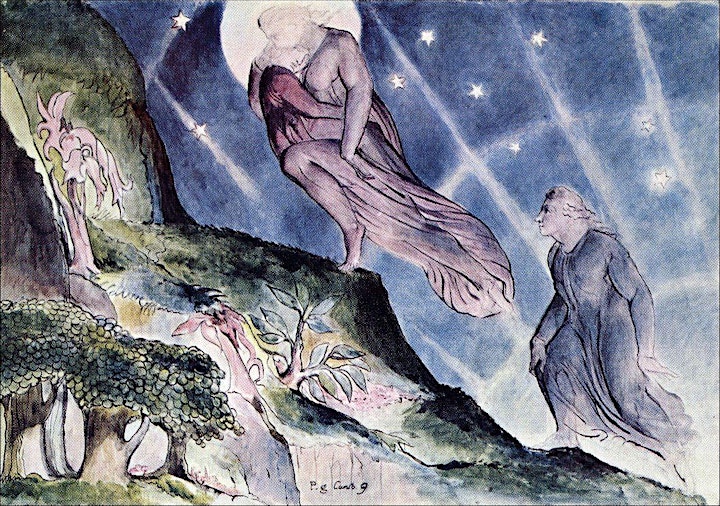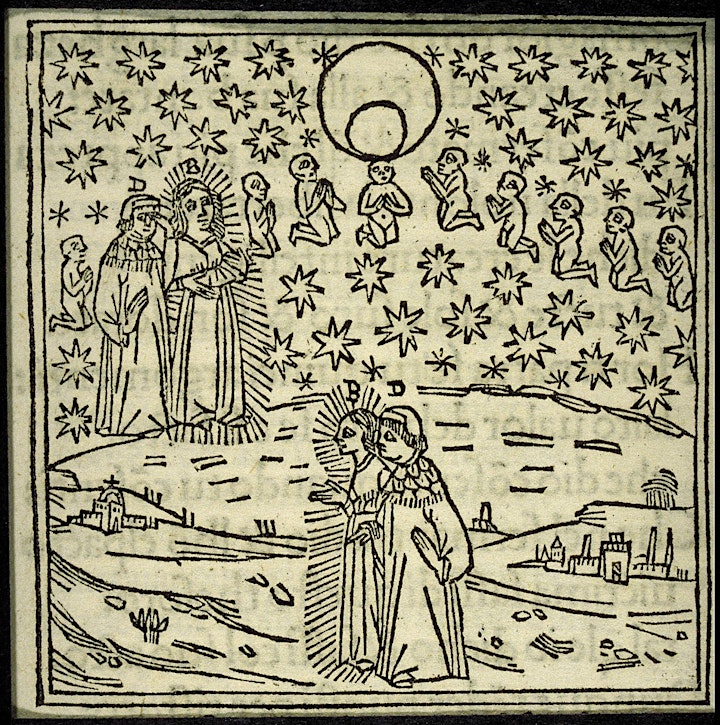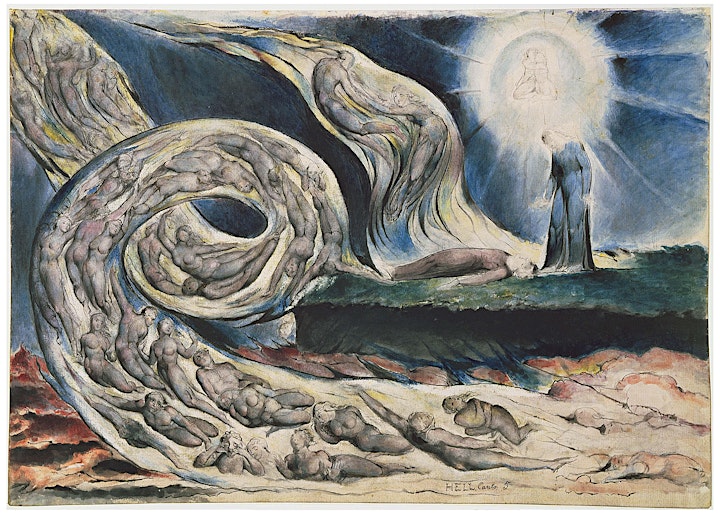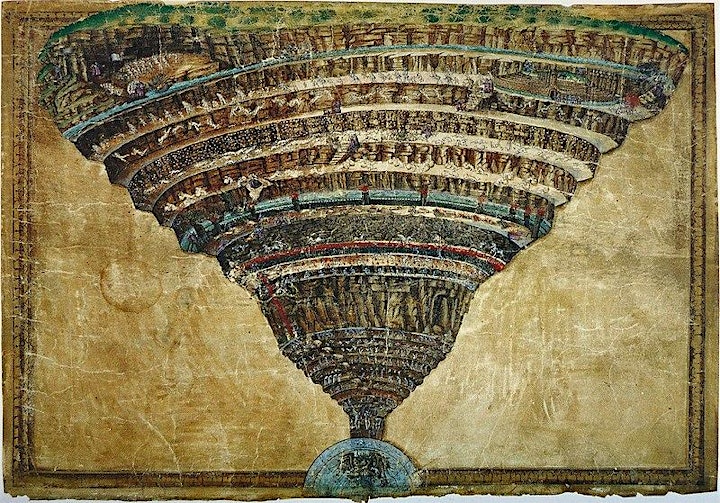 Date and time
Location
Refund policy
Contact the organizer to request a refund.
Eventbrite's fee is nonrefundable.