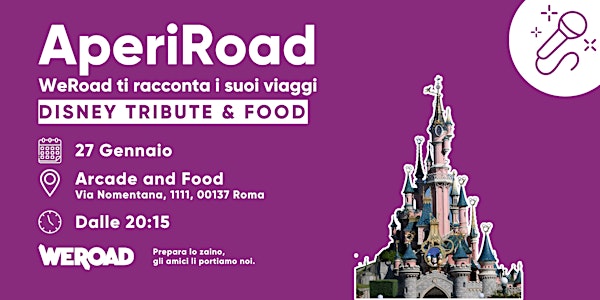 Disney Tribute & Food | WeRoad ti racconta i suoi viaggi
Disney tribute band & Food!
When and where
Location
Arcade and Food 1111 Via Nomentana 00137 Roma Italy
About this event
Chi è pronto per una serata super divertente? 🙋‍♂️ Tornare bambini per una sera è possibile!
Prendi un buon hamburger, una birra fresca, nuovi compagni di viaggio e ritrovati a cantare insieme tutte le canzoni più famose della Disney…dal vivo!
Tutto questo all'Arcade and Food, sulla Nomentana: sala giochi, buon cibo e tante risate!
⚠️Prenotati: i posti sono limitati! ⏰ #stiaconnoi
COME PARTECIPARE? 🎊 Per partecipare all'evento iscriviti su Eventbrite
DOVE? Arcade&Food, sulla Nomentana
QUANDO? venerdì 27/02, ore 20.15
CONTATTO 🤹🏻‍♀️ Per INFO e CONFERMA DI PRENOTAZIONE CONTATTARE LA COORDINATRICE LAURA FOGLIA (Su Facebook o su instagram @wildleaf__
COSTO? Gratuito, paghi quello che consumi (15/20€)
COSA TI ASPETTA?
Una serata dove tornare bambini e cantare a squarciagola le canzoni dei nostri cartoni animati preferiti, davanti a un buon hamburger e conoscendo meglio WeRoad e i tuoi futuri compagni di viaggio!
🚨 FASCIA 25-35
Vieni da solo o con un amico! Di solito gli amici li portiamo noi, ma questa volta li puoi portare senza problemi anche tu!
---
Chi è WeRoad e che cosa fa?
In pillole: portiamo gruppi di viaggiatori in giro per il mondo.
Perché abbiamo organizzato questo evento?
Perché una frase non basta per raccontare quello che facciamo davvero – ovvero cambiare la vita delle persone (ci piace essere modesti!).
Vogliamo farti scoprire cosa significa per noi viaggiare e incoraggiarti ad uscire dalla routine di tutti i giorni per scoprire luoghi e culture lontane e anche, ovviamente, te stesso e nuovi amici con cui condividere esperienze uniche!