DILL 10 years later 2006-2016. What education for the Digital Librarian? Profiles, skills, competencies in the Google era.

Friday, 18 March 2016 from 13:30 to 17:30 (CET)
Event Details


What education for the Digital Librarian? Profiles, skills, competencies in the Google era
DILL ten years later 2006-2016
Milan, March 18th 2016, h 13.30-17.30
Convegno Stelline 2016


The Workshop
Master DILL Consortia is glad to invite you to the first global meeting of the International master Digital Library Learning 10 years after the first edition, during The Conference Stelline - Milan 2016 (
http://www.convegnostelline.it)
.
The Conference Stelline will see librarians coming from all over Italy and from everywhere to discuss on a very crucial contemporary issue: what should be the professional profile of librarians in the Google era? We believe this will be an occasion to reunite the international community that has grown around DILL: alumni from past editions meet together with professors, visiting professors, experts, current students to share careers and study path, ideas, best practices and discuss together. DILL community experience can actively contribute to enrich the discussion about the education for digital librarian in Italy and internationally, we welcome your contribution and invite you to participate with paper or poster or pecha kucha.
The international master programme Digital Library Learning has been planned to provide students with the most complete and consistent education for Digital Librarian new professional. Ten years after the first edition, the contemporary society has revealed new trends, new necessities have emerged from the Digital Library community. New competencies are requested from the librarians and new profiles are asked by the labour market.
The event has been planned not as a celebration, but as a critical reflection about the strengths and weaknesses of the programme. How can DILL and professional master programmes respond to the changing necessities of the society? How to improve the educational curriculum to satisfy the new competencies?
SCHEDULE of the event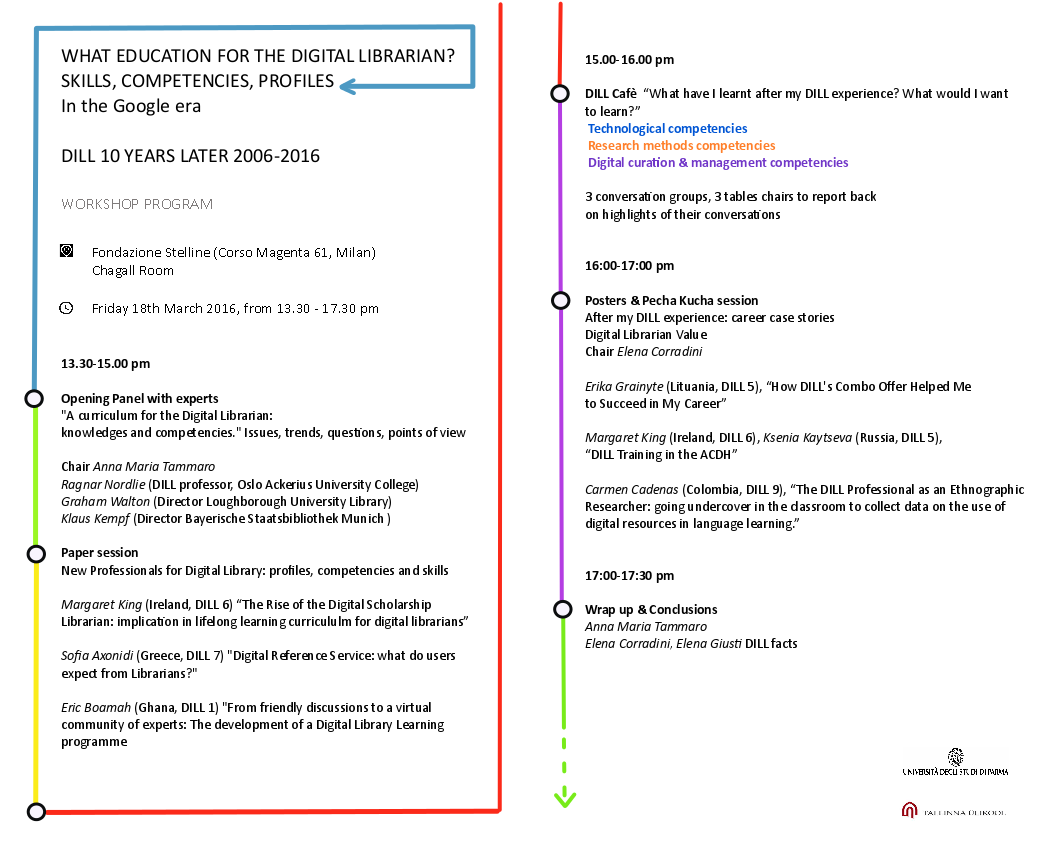 SUBSCRIBE TO PARTICIPATE!
To confirm your participation to the event, please complete the following steps:
Register to the event here on Eventbrite

Register to the Conference: http://www.convegnostelline.it/iscrizioni.php
before MARCH 15th
JOIN THE MEETING ON THE WEB!
DILL international community is wide and scattered all over the world: we would like everyone of its members to monitor the event online. All participants are invited to follow the

#Dill10years

on Twitter and on Facebook, and use it to talk about the meeting.
Enhanced Ebook project
Submissions will be selected by the Programme Committee and reported on a collective enhanced ebook. The ebook is planned as to be a collection of interesting and innovative contribution that will enrich the discussion, especially focused on the Digital Librarian value, as well as a compendium of the DILL experience: DILL Alumni success stories, career paths, and lessons learned. It will be open to other contributions if complying to the call for papers. The ebook will also report a complete list of DILL master thesis.
Theme and Key topics of the Workshop
Choose topics and presentation modalities.

All the selected papers, posters and pecha kucha will be included in the enhanced ebook.
Call for Papers
Topic: New Professionals for DL: Profiles, competencies and skills.  
Due to the emerging of the new trends of global education and digital information environment, Digital Librarians must renovate their curriculum and professional development plans. How should Digital Librarian professional lifelong learning continue? Which specializations? Does it exist a core curriculum for digital librarian's competencies?
Selected papers will be presented during the panel session of the Workshop. Each presenter will have 15 minutes to talk.
Full paper length is limited to minimum 2000 and maximum 3000 words including footnotes and references. The abstract length does not count to the full paper length.
Call for Posters
Topic: After my DILL experience: career case stories
Focus on the three aspects of Digital Librarian professional: Profiles, skills and competencies.
In what way DILL programme has provided you with the right competencies? How could you apply these in your career? Which skills have emerged?
What are the strong points of the master programme? In what way have you applied your knowledge in your current job activity? What advices for future students?
Presentation of career case studies.
Poster session should provide information on the project or topic in max. 10 minutes of presentation each.
Call for Pecha Kucha
Topic: Digital Librarian Value
In what way digital librarians could lay an active role in society and how can a digital librarian highlight that Digital Libraries are able to transform Society?
Presentation of cases of success for partecipative digital libraries, proposals for innovative initiatives of digital libraries facilitating knowledge creation, projects and Best Practices demonstrating the digital librarians value.
Pecha Kucha modality consider the solution 20x20 max. and 10 minutes for presentation [http://www.pechakucha.org/faq]


You can choose also between the following two forms
Blogpost

Posts from your blog will be inserted in the ebook. To be included in the ebook, submitted posts must be pertinent and must have been published online in the past 12 months. The copyright remains with the author, you provide us with the consent to include your content in the publication.
Video Interview

Video interviews of particular interest will be selected to be shown during the meeting. All the video interviews will be  inserted in the ebook. For this form,

please contact professor Anna Maria Tammaro annamaria.tammaro@unipr.it
Selection criteria
The Programme Committee will select abstracts based on the following criteria
Relevance for the theme

Originality

Impact for the international professional community 

Impact for DILL programme improvement

Quality of the research methodology
Licenses​
All submissions and presentations must be licensed under the Creative Commons Attribution

.

By submitting a document you agree to these terms.
Slides, Infographics and Posters will be published and shared on the

SlideShare channel

"DILL10years".
How to submit your abstract
An abstract (300-500 words, document in pdf format) for each type of contribution needs to be submitted via Easychair conference tool. On your abstract you should indicate also the chosen modality for the presentation.
To submit the abstract of your work, please follow this link

:

Abstract Submissions 
Deadline for abstracts submission is

January 15

January 25, 2016
How to submit your final contribution
Final contributions have to be submitted to this mail address: dill10years@gmail.com
Deadline for final submission is February 10, 2016.​
Important Dates 
Deadline for submission of abstracts:

25 January 2016

Deadline for final submission:

10 February 2016

Deadline for Conference registration: 15 March 2016
Programme Committee
Vittore Casarosa, Klaus Kempf, David Lankes, Aira Lepik, Carlo Meghini,
Anna Maria Tammaro,

Sirje Virkus,

Francesco Zanichelli, Graham Walton
More info
If you have any queries, either on practical points or about the content of your contribution, please write to dill10years@gmail.com
When & Where

Fondazione delle Stelline
61 Corso Magenta
Sala Chagall
20123 Milano
Italy


Friday, 18 March 2016 from 13:30 to 17:30 (CET)
Add to my calendar
Organiser
The International Master in Digital Library Learning (DILL) is a two-year collaborative master program between Tallinn University in Estonia and Parma University in Italy. 
The course is designed to prepare students from European and third countries, including librarians, archivists, curators, administrators and technologists, who have or will have responsibility for managing digital collection development programs and/or implementing digital libraries and conducting digital library education programs to work in the complex world of digital libraries. The students will acquire a joint Master's degree diploma (120 ECTS) which is recognized by all two partners.