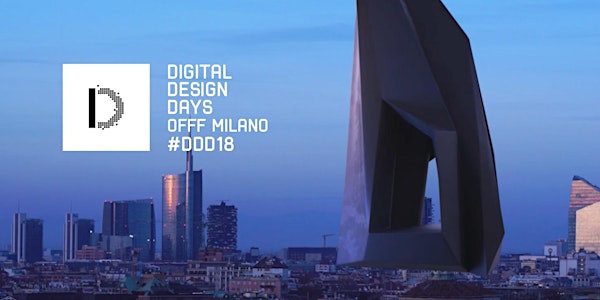 Digital Design Days 2018 + OFFF Milano
When and where
Location
MegaWatt Court Via Watt, 15 20143 Milano Italy
Description
THE EVENT OF THE YEAR IS BACK #DDD18
Thousands of professionals from all over the world, gathered in one place with the brightest minds in the industry and the best international brands. 3 magic days in which Milano becomes world capital of Digital Design, offering exclusive conferences, Offf Milano, professional workshops & masterclasses, Digital Design Award prize-giving ceremony, technology showcases & installations, an unmissable party and many networking activities.
After a huge success of the first two editions with 3000 participants from 52 countries, Digital Design Days moves to MEGAWATT COURT, a larger industrial location to give more room to creativity, installations and networking activities. An unmissable event, with a new line-up of extraordinary speakers, never before in Italy, to celebrate creativity in digital design together with the best Italian and international designers, visionary storytellers and innovative thinkers inspiring, teaching and leading us to face the challenges and the opportunities of today and tomorrow.


Confirmed Speakers:

DAVID CARSON
ASH THORP
HARALDUR THORLEIFSSON, UENO
ANRICK BREGMAN, UNIT9
MR. BINGO
FERDI ALICI, OUCHHH
DANNY YOUNT, PRODIGAL PICTURES
CHRIS DO, THE FUTUR
DAAN KLAVER, BUILD IN AMSTERDAM
ZAOEYO ALIAS MIKE ZENG
MASASHI KAWAMURA, PARTY
TOBIAS WUSTEFELD
DITROIT
KUDO TAKASHI, TEAMLAB
VITOR VERAS, MARVEL ENTERTAINMENT
TRIONA BUTLER, GOOGLE UX DESIGN LEAD
FRANZ FISCHNALLER
MICHAEL MODENA & ANDY THELANDER, ACTIVE THEORY
SCOTT LACHUT, PSFK PARTNER
JEPPE AAEN, HELLO MONDAY

* * * * *
OFFF MILANO

The post digital culture festival in Milano.
OFFF is more than a festival hosting international innovative speakers, it is more than feeding the future. OFFF is a community that invites all those who want to learn and be inspired to take a trip between conferences, shows and activities. A unique combination of creative, designers, online/offline, motion designers, thinkers, sound designers, graphic designers, theorists, developers, professionals, students and simply curios people. This is the meeting point alluring the whole world to meet and collaborate.
Confirmed speakers:
JOSHUA DAVIS
HEY STUDIO
FILIPE CARVALHO
MARINA ESMERALDO
MUSKETON
* * * * *
LEARN
extraordinary workshops & masteclasses are waiting for you. Learn a profession, or improve your skills face to face with gurus and leaders.
HACKING 3DTOOLS TRAILER MAKING OF, by Tobias Wustefeld
BUSINESS OF DESIGN by Chris Do The Futur
CREATING & EDITING 360° VIDEO FOR SOCIAL MEDIA, by Albert Dedeu 360VR Barcelona
XPAY SIMPLIFY PAYMENT EXPERIENCE, by Dirk Pinamonti Nexi
CREATING CONCEPTS IN ZBRUSH WITH WACOM, by Daniele Danko Angelozzi
CHARACTER DESIGN: MAKE YOUR OWN HERE, by Alessio Tommasetti
PROTOTYPING WITH FRAMER, by Silvia Bormüller
SKETCH FOR BEGINNERS, by Silvia Bormüller
* * * * *
FEEL
let yourself be seduced by innovative technologies and exclusive and captivating installations. Real art works that will amaze you, and invite you to interact and get excited thanks to digital storytelling paths that are always different.
AVA PARTICLE PHYSICS, by Ouchhh
NOI by MONOGRID
FINDING STILLNESS by Field
ONE WORLD ONE FACE by Adoratorio
Networking Night Exclusive:
DIGITAL SOUL by Souldesigner
DEVX EXPERIMENTS by MONOGRID

* * * * *
BEER2BEER NETWORKING + DINNER NIGHT
Saturday 17th at NHOW T35, h. 21:00
DINNER IS INCLUDED!
A unique opportunity to meet personally professionals, guru and leaders of the international digital scene. An exclusive evening in collaboration with Triplesense Reply and Chiara Luzzana, designed and built to enhance the mix-up and networking activities in an informal and relaxed environment.
Beer2Beer is the first shareable drink made for digital experts, which will facilitate the knowledge among the participants to form new digital teams! An Instan Win competition will allow you to win VIP Pass Gold and get in touch with the HR team of Triplesense Reply.
Together we will create the first soundtrack of Digital Design Days! Thanks to the international sound designer Chiara Luzzana, we will all be protagonists of a game that will lead to the creation of sounds and music that will be the protagonist of the communication of the next DDD event.
INCLUDED IN PURPLE & VIP GOLD PASSES
UPGRADE FROM AQUA 59,00€


* * * * *
MEGAWATT COURT
One of the biggest location for events in Milan. 9000 sqm of creativity. A newly opened location, set in an industrial complex with genuine and fascinating 70s architecture. The ideal place for big events, not only due to the size of the spaces but also for its particularly convenient position in Tortona, the Design area.