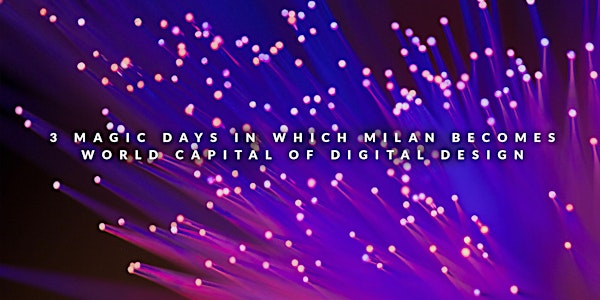 Digital Design Days 2017 + OFFF Milano
When and where
Location
La Fabbrica del Vapore Via Giulio Cesare Procaccini, 4 20154 Milano Italy
Description
THE EVENT OF THE YEAR #DDD2017
Digital Design Days is a 3 day event that boasts exclusive conferences, OFFF Milano second edition, workshops and professional masterclasses, digital showcases & installations, a networking party and many other networking and inspiring activities.
After the big success of the first edition, with over 1000 participants from 29 countries, DDD2017 moves to LA FABBRICA DEL VAPORE, in a larger space to give more room to creativity, installations and networking activities. An event not to be missed, with a new line-up of extraordinary speakers, never before in Italy, to celebrate creativity in digital design along with the best Italian and international designers, visionary storytellers and innovative thinkers inspiring, teaching and leading us to face the challenges and the opportunities of today and tomorrow.
Confirmed Speakers:

MATIAS COREA, BEHANCE
CLAUDIO GUGLIERI
ANDY DAHLEY, GOOGLE
STEFANIE POSEVEC
WATSON DG
RESN
ACTIVE THEORY
YOUR MAJESTY
UNIT9
MONOCHROME
IMMERSIVE GARDEN
EPIC
FROG DESIGN
YASEMAN SHERI

... and more to be announced.

* * * * *
OFFF MILANO

The most important festival of the post digital culture comes back to Miano.
OFFF is more than a festival hosting international innovative speakers, it is more than feeding the future. OFFF is a community that invites all those who want to learn and be inspired to take a trip between conferences, shows and activities. A unique combination of creative, designers, online/offline, motion designers, thinkers, sound designers, graphic designers, theorists, developers, professionals, students and simply curios people. This is the meeting point alluring the whole world to meet and collaborate.
Confirmed Speakers:
MOMENT FACTORY
FUTURE DELUXE
LO SIENTO
ONUR SENTURK
TAVO STUDIO
FIELD
FROM FORM
ECHOLAB
* * * * *
WORKSHOPS & MASTERCLASSES
extraordinary workshops are waiting for you. Learn a profession, or improve your skills face to face with gurus and leaders. The workshops are held in dedicated rooms in the same venue as the conferences.
SKETCH BEGINNERS by Lorenzo Bocchi
SKETCH ADVANCED by Lorenzo Bocchi
FACEBOOK VIDEO 360 by Dot Lung
SOCIAL MEDIA MARKETING by Dot Lung
WEBGL WITH PIXI.JS by Yi-Wen Lin and Mat Groves
PROJECTION MAPPING by Studio Aira
ART OF VIRTUAL REALITY by Mate Steinforth
SOUND DESIGN by Chiara Luzzana
DESIGN YOUR LIFE by Matias Corea
DESIGN SPRINT by Accenture Digital

* * * * *
INSTALLATIONS
be seduced by innovative technologies and exclusive and captivating digital installations. Real art works that will surprise you, and invite you to interact, think, be excited and smile thanks to digital storytelling paths that are always different.
CAPTURED ATHMOSPHERE by Naive Laser & Virtulabs
CHAMELEON by Sehsucht & Undefined
DEVX EXPERIMENTS by MONOGRID
DDDOT MAPPING by Studio Aira
HUE by Nicole McDonald
HTC GAMING by MONOGRID
KISSING by UNIT9
VISUAL EXPERIENCE by MONOGRID
CITYSCAPE by Nicefall
* * * * *
NETWORKING PARTY
A unique opportunity to meet personally professionals, guru and leaders of the international digital scene. An exclusive party at Tocqueville 13, one of the most glamourous clubs in Milan, in the heart of the City of Fashion, in Corso Como area, to enhance the mix-up and networking activities in an elegant and minimal Hi-tech environment.

* * * * *
DIGITAL EXPERIENCE DDDINNER
A unique event night not to be missed, where speakers and guests will interact between them also through a series of exclusive installations and immersive and interactive experiences. A night that will be long remembered. A night to be.
* * * * *
LA FABBRICA DEL VAPORE
A lively, energetic, open and permeable space, with a strong Milanese appeal, and at the same time international, where leisure and culture intersect. A creative and recreational laboratory for the young, it is characterized by a prominent interdisciplinarity of the many activities that are promoted. This is a place to go to often to create, participate, know and share.