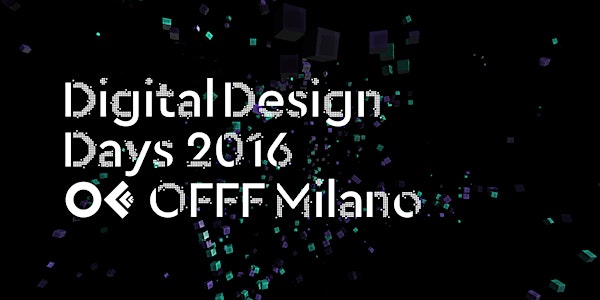 Digital Design Days 2016 + OFFF Milano
When and where
Location
NHOW Milano 35 Via Tortona 20144 Milano Italy
Description
English information
please refer to www.ddd.it/en

L'EVENTO DELL'ANNO
Digital Design Days & Award #DDD2016 è un evento di 3 giorni che comprende conferenze esclusive, la prima edizione di Offf Milano, la cerimonia di consegna del Digital Design Award, workshops professionali, digital showcase, un party e numerose attività di networking.
Un appuntamento imperdibile, una line-up di speakers straordinari come mai prima d'ora in Italia per celebrare la creatività nel design digitale in compagnia dei migliori designer italiani ed internazionali, storytellers visionari e pensatori innovativi che ispirano, insegnano e ci guidano per affrontare le sfide e le opportunità che ci attendono oggi e nel futuro.
Alcuni Speakers:
UNIT9
HELLO MONDAY
SAIZEN MEDIA
ALEX JENKINS
JAKOB KAHLEN
ACCURAT
DOGSTUDIO
DAVID MC CANDLESS
GOOGLE
MEDIAMONKS
ADOBE
TUTTI I PROTAGONISTI E PROGRAMMA
www.ddd.it
OFFF MILANO
Il più importante festival della cultura post-digitale arriva per la prima volta in Italia a Milano.
Offf è molto più di un festival che ospita relatori innovativi ed internazionali, è molto più di nutrire il futuro. Offf è una comunità che invita tutti coloro che sono desiderosi di imparare e trarre ispirazione a partecipare ad un viaggio tra conferenze, attività e spettacoli. Una combinazione di creativi, designer offline/online, motion designer, pensatori, sound designer, graphic designer, teorici, sviluppatori, professionisti, studenti e... curiosi. Il punto di incontro che invita i talenti di tutto il mondo a conoscersi e collaborare.
HECTOR AYUSO
ANTON & IRENE
VASAVA
SEHSUCHT
CARLA CASCALES
IDEO
MUCHO
THE MILL
ARS THANEA

WORKSHOPS
Ti attendono workshops straordinari. Impara un mestiere e migliora le tue capacità a tu per tu con i guru e professionisti del settore: responsive environments, digital post-production, sviluppo webGL ed altro ancora. Si svolgono all'interno della sede dell'evento in sale specificatamente attrezzate.
RESPONSIVE ENVIRONMENTS
A cura di Sorob Louie (english)
COMPOSITING AND MATTE PAINTING
A cura di Francesco Marzoli (italiano)
SHADERS-RAY MARCHING WEBGL BASICS
A cura di Yi-Wen Lin (english)
SO, WHAT ARE YOU GOING TO DO?
A cura di Hector Ayuso (english)
PROJECTION MAPPING
A cura di Studio Aira (italiano)
WORKSHOPS ARE BEAUTIFUL
A cura di David McCandless (english)

INSTALLAZIONI
Lasciati sedurre dalle tecnologie innovative di installazioni digitali esclusive e coinvolgenti. Vere e proprie opere d'arte che vi sorprenderanno ed inviteranno ad interagire, riflettere, emozionarvi, sorridere, attraverso percorsi di narrazione digitale ogni volta diversi.


THE INTERACTIVE WAVE
A cura di Sorob Louie & Filippo Spiezia
COMPLESSITÀ
A cura di Enrica Beccalli
MOONSEAT
A cura di Alex Jenkins & Owen Hindley
TECA BY SENSO
A cura di Drawlight e Senso
SU?
A cura di Bertrand Carrara & Yi-Wen Lin

HTC VIVE
A cura di MonoGrid

NETWORKING PARTY
Un'occasione unica per incontrare e conoscere i professionisti, guru & leaders della scena digitale internazionale. Un party esclusivo all'interno del T35, un ambiente di design del nhow hotel che vi accoglierà con un'atmosfera calda ed informale per favorire incontri ed attività di networking.

NHOW HOTEL
Inizia il tuo viaggio creativo sempre diverso. Tendenze e controtendenze, atmosfere internazionali e glamour milanese: nhow è un concentrato unico di originalità e contrasti, che si esprime ogni volta con linguaggi innovativi e forme sorprendenti.

NON PUOI MANCARE!
I posti sono limitati. Acquista subito il biglietto per l'evento digital dell'anno! Bastano 2 minuti per prenotare il tuo posto e scegliere il pacchetto con le opzioni che preferisci!