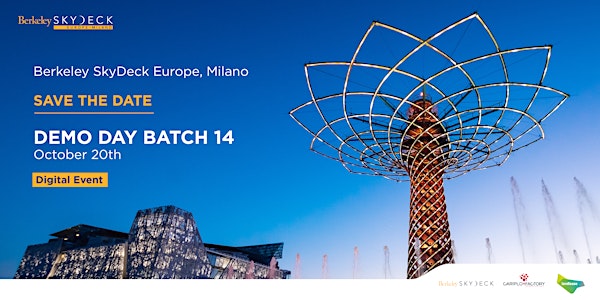 Demo Day | Berkeley SkyDeck Europe, Milano
Join the Demo Day of Berkeley SkyDeck Europe
About this event
On the 20th of October, it will take place the Demo Day of the first edition of SkyDeck Europe.
During the event, the startups will pitch their innovative solutions and will meet the audience in the networking session, organized in breakout rooms.
AGENDA:
2:30 pm | Welcome and introduction
2:45 pm | Startup pitches
3:45 pm | Networking sessions and breakout rooms
6:00 pm | Closing remarks
SkyDeck Europe, Milano
Berkeley SkyDeck, Cariplo Factory, and Lendlease launch a new accelerator program: Berkeley SkyDeck Europe, Milano, focusing on accelerating European-based startups.
European startups will now be able to more easily access the vast network of advisors, mentors, VCs, and corporations that Berkeley SkyDeck has been building over the past 10 years, while also building their business in Europe and leveraging the European startup ecosystem. The accelerator is a collaborative initiative between three key stakeholders including Berkeley SkyDeck, the global startup accelerator of the University of California, Berkeley, Cariplo Factory, an innovation hub specializing in entrepreneurial programs, and Lendlease, a global real estate, and investment group.
Find out more: www.cariplofactory.it/en/skydeck-europe-milano/