Dammi un QR code e ti dirò chi sei | dal social engagement al customer profiling

Tuesday, March 6, 2012 from 2:30 PM to 6:15 PM (CET)
Event Details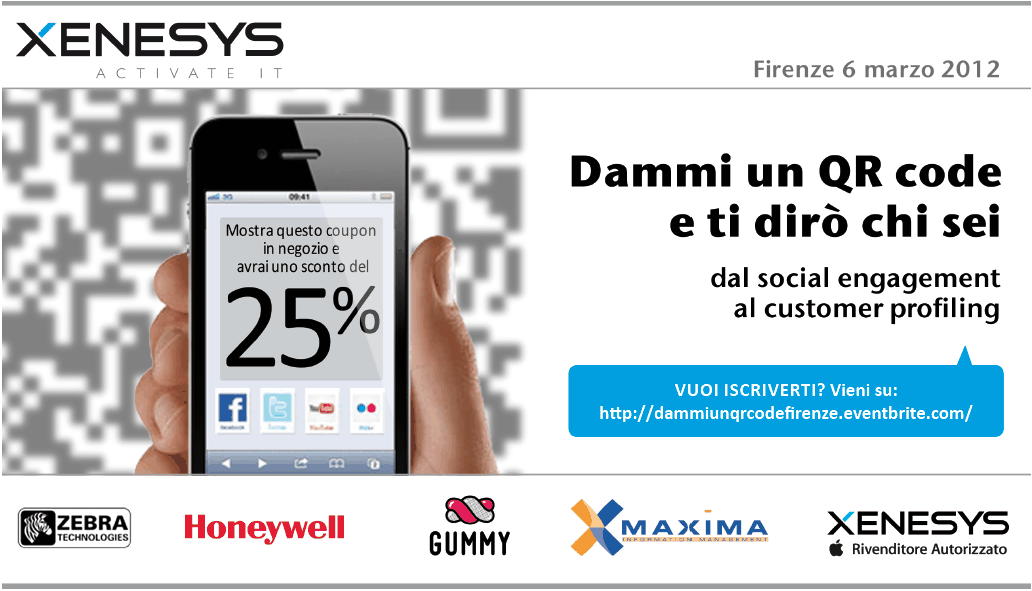 EX3 Centro per l'arte contemporanea, Firenze | 6 marzo 2012 
Scopri con una LIVE DEMO come le tecnologie QR code, i social media e gli strumenti mobile Apple, Honeywell e Zebra permettono di incrementare l'afflusso nel punto vendita, aumentare la customer satisfaction e rafforzare la fidelizzazione del cliente per tutte le imprese retail.
Programma
Ore 14.30         Welcome & registration
Ore 15.00         Giuseppe Mastrocicco | Business Development Enterprise Applications, Xenesys
Scenari del retail: lo shopping del futuro è già oggi. Un mercato che richiede innovazione e che lancia una sfida al futuro, integrando sempre più azioni marketing attreverso i social media e nuove tecnologie mobile.
Ore 15.30         Live demo!
Simuliamo il flusso informativo e tecnologico ideale per creare una campagna marketing innovativa e coinvolgere il consumatore in una vendita esperienziale e assistita. Come funziona? Chi sono le figure coinvolte all'interno dell'impresa? Quali investimenti sono necessari? Quali strumenti (mobile e non) entrano in gioco?
Ore 16.00         Coffee break
Ore 16.15         Andrea Albertin | Amministratore, Maxima


G-SHOP e G-SHOP MOBILE: soluzioni di retail management flessibili, semplici ed economici per controllare e gestire il front office e il back office di qualsiasi punto vendita, perfettamente integrabile con campagne di social media marketing, con le tecnologie mobile e adatta per il customer profiling.
Ore 16.45         Giuseppe Mastrocicco | Business Development Enterprise Applications, Xenesys


Customer experience, app mobile e QR code: come implementare una strategia di marketing efficace, sostenuta dalla tecnologia Apple. Le diverse tecnologie pensate per il retail (contapassaggi, telecamere intelligenti, software analisi flussi) amplificano l'esperienza del cliente e trasferiscono all'impresa dati reali e affidabili sui flussi e sugli acquisti in negozio. Le app enterprise, installate sui dispositivi Apple come iPad e iPhone (cruscotti di Business Inteligence, app per la raccolta ordini, app in store per gli addetti alla vendita), incrementano efficacia ed efficienza del negozio e permettono di fornire un migliore supporto al cliente durante le fasi della vendita. Le app consumer destinate al cliente finale, promuovono il punto vendita attraverso contenuti creativi e grafica accattivante. Il mobile device management consente di gestire i device mobile da remoto in pieno controllo e totale sicurezza.
Ore 17.15         Fabrizio Martire e Alessandro Mininno | Amministratori e Social media manager Gummy Industries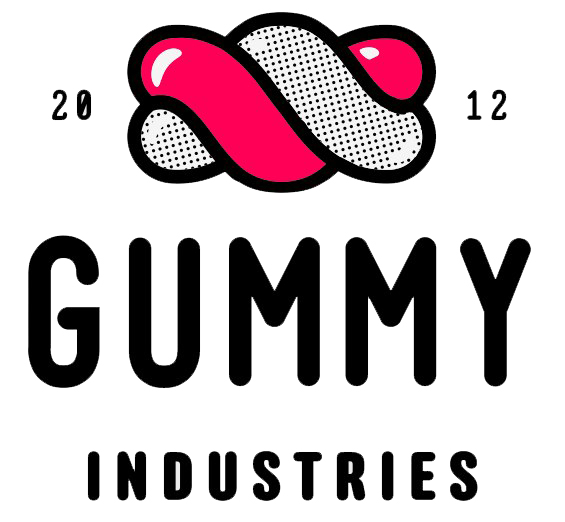 Il social media marketing al servizio del fashion retail innesca meccanismi di conversazione distribuita per promuovere il punto vendita e incrementare l'afflusso di clienti in negozio. Le logiche di gamification e di social networking supportano il business e aumentano la fidelizzazione.
Ore 17.45         Signor Marco Maffina | Italy Account Manager, Honeywell   

                        Honeywell migliora la customer experience. Le campagne mobile couponing, prevedendo l'utilizzo di mobile coupon e di loyalty card digitali inviati sullo smartphone del cliente, rendono semplice ed efficace sia raggiungere un pubblico molto ampio, che attuare attività promozionali mirate ai singoli target. Gli strumenti hardware di Honeywell, affidabili e tecnologicamente avanzati, consentono agli addetti alla vendita di fornire un migliore supporto alla clientela, sopperendo al turnover e migliorando l'upselling.
Ore 18.15         Rinfresco (Convivium)
L'evento è giusto per me?
L'evento è pensato per i responsabili dei punti vendita, i responsabili marketing e i responsabili IT delle piccole, medie e grandi aziende del retail (distribuzione al dettaglio di abbigliamento, calzature, accessori, articoli sportivi, cartoleria, libri, giocattoli, profumi e articoli per la casa, etc.).
Dove si svolge l'evento?
L'evento è ospitato nel bellissimo EX3, il centro di arte contemporanea che si trova a Firenze Sud, in viale Giannotti, accanto alla Coop Gavinana.
Quanto dura l'evento?
L'evento dura circa tre ore e mezza, a partire dalle 14,30.
Quanto costa?
Niente! La partecipazione all'evento è gratuita.
Cosa troverò all'evento?
All'evento sarà offerto un coffee break e un aperitivo (Convivium).
I partecipanti all'evento potranno inoltre visitare la mostra in corso presso EX3: Do you believe in mirages? di Jacopo Miliani.
Dove posso parcheggiare?
Nelle immediate vicinanze dell'EX3.
Per informazioni e iscrizioni:
Paolo Failli
+39.335.6931035

Xenesys Siena
www.xenesys.it | blog.xenesys.it
viale Europa, 15 | 53100 Siena
+39.0577.1915751
Have questions about Dammi un QR code e ti dirò chi sei | dal social engagement al customer profiling?
Contact Xenesys
When & Where
viale Giannotti, 81
Florence
Italy


Tuesday, March 6, 2012 from 2:30 PM to 6:15 PM (CET)
Add to my calendar
Organizer
Xenesys è un solution e service integrator che offre soluzioni e servizi IT alle imprese del fashion, del retail, del lusso, deldesign e a quelle marketing-intensive di tutta Italia.
L'ampia offerta multibrand garantisce al cliente neutralità nella proposta delle soluzioni, l'approccio proattivo assicura al cliente le migliori tecnologie sulla base delle sue esigenze di flessibilità ed efficienza. La sua struttura, fatta di persone competenti e costantemente aggiornate sulle più recenti innovazioni tecnologiche, fa di Xenesys il partner ideale per l'information technology.