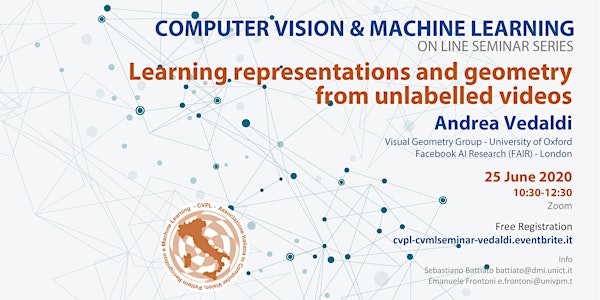 CVPL CV & ML ONLINE SEMINAR - PROF. ANDREA VEDALDI
LEARNING REPRESENTATIONS AND GEOMETRY FROM UNLABELLED VIDEOS Prof. Andrea Vedaldi University of Oxford & Facebook AI Research
Date and time
Thursday, June 25, 2020 · 1:30 - 3:30am PDT
About this event
CVPL - COMPUTER VISIONE & MACHINE LEARNING
ON LINE SEMINAR SERIES
Una serie di seminari, organizzata con il patrocinio dell'Associazione Italiana per la ricerca in Computer Vision, Pattern recognition e machine Learning (CVPL), che offre contenuti per tutti i corsi che che si stanno svolgendo nelle varie università italiane in questo particolare periodo.
I seminari sono gratuiti e dedicati agli studenti dei corsi affini ai settori della Computer Vision, Pattern Recognition e Machine Learning e sono tenuti in italiano da ricercatori internazionali. I seminari sono tenuti in italiano.
TERZO SEMINAR
Learning representations and geometry from unlabelled videos
Prof. Andrea Vedaldi
Visual Geometry Group - University of Oxford & Facebook AI Research (FAIR) - London
ABSTRACT
Learning without manual supervision is one of the "big challenges" of artificial intelligence. In this seminar, I will discuss our recent work on learning representations and geometry from the observation of unlabelled images and videos. I will focus on work representative of various key subproblems in this area: learning deep neural network features for video data, automatically associating discrete labels to videos (clustering), estimating the 2D and 3D pose of articulated objects with no or weak supervision, and reconstructing deformable object categories in 3D.
SHORT BIO
Andrea Vedaldi is professor of Engineering Science at the University of Oxford, where he co-leads the Visual Geometry Group since 2012. He is also a research scientist in Facebook AI Research (FAIR) in London. His recent work has focused on unsupervised learning of representations and geometry in computer vision. He is author of more than 130 peer-reviewed publications in top machine vision and artificial intelligence conferences and journals. He is a recipient of the Mark Everingham Prize for selfless contributions to the computer vision community, the Open Source Software Award by the ACM, and the best paper award by the Conference on Computer Vision and Pattern Recognition.
INFO
Sebastiano Battiato - battiato@dmi.unict.it
Emanuele Frontoni - e.frontoni@univpm.t