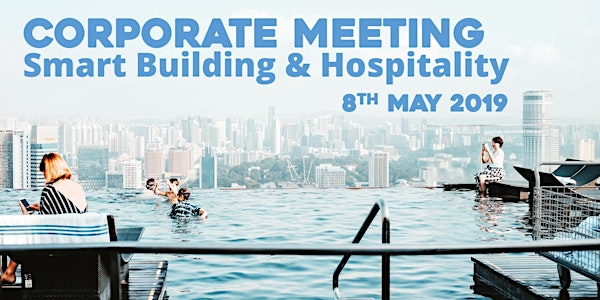 Corporate Meeting Smart Building & Hospitality
By Fondazione Piemonte Innova
When and where
Date and time
Wed, 8 May 2019 15:00 - 19:00 CEST
Location
Copernico Torino Garibaldi Corso Valdocco 2 10122 Torino Italy
Description
EEN - EUROPEAN NETWORKING EVENT - SENTINEL Project
Hotel e strutture ricettive, ristoranti, agenzie di viaggio, uffici turistici sono sempre più chiamati a rivoluzionare la loro offerta di soggiorno con soluzioni tecnologiche innovative. Dalla gestione di strutture ad alta efficienza che utilizzino elettricità, calore e acqua in modo sostenibile, ai sistemi ICT per rendere intelligenti e sicuri gli edifici, alle soluzioni digitali in grado di arricchire e facilitare l'esperienza di viaggio e soggiorno.
L'incontro si aprirà con i risultati del progetto europeo COSME Sentinel, di cui Torino Wireless è partner, che ha costruito una strategia internazionale per portare le PMI che operano in ambito energetico, idrico e ICT ad approcciare mercati emergenti nel settore hospitality oltre le frontiere dell'Unione Europea.
A seguire, sedici imprese aderenti al Polo ICT e al Polo Clever della Regione Piemonte presenteranno le loro innovazioni per il settore dell'hospitality e per finire saranno organizzati B2B con i partecipanti che li avranno richiesti durante i pitch.
Organizzano la Fondazione Torino Wireless ed Environment Park, in collaborazione con la rete EEN - Enterprise Europe Network.
Info e programma su: www.poloinnovazioneict.org
---
Hotels and accommodation facilities, restaurants, travel agencies, tourist offices are increasingly called to revolutionize their offer with innovative technology solutions. From the management of high-efficiency facilities that use electricity, heat and water in a sustainable way, to ICT systems to make buildings smart and safe, to digital solutions that enrich and facilitate the travel and accommodation experience.
The meeting will open presenting the COSME SENTINEL project outcomes. The four clusters in the project – CENFIM and CWP from Spain, Cleantech-Cluster from Austria, and Torino Wireless from Italy – will launch the strategy for a long-term partnership to enable EU SMEs to approach emerging markets where the hospitality sector has a huge growth and therefore in finding market opportunities outside Europe.
Sixteen European tech-based companies will pitch their technology solutions to attract potential partners. B2B meetings (each 15 minutes) will be arranged according to the requests that the participants will send during the pitch time.
The Torino Wireless Foundation organizes the event in collaboration with Environment Park and Enterprise Europe Network, the world's largest support network for small and medium-sized enterprises (SMEs) with international ambitions.
More information and program on: www.poloinnovazioneict.org
Download the event poster and agenda
About the organiser
La Fondazione Piemonte Innova, nata per volontà dalle istituzioni piemontesi per promuovere il DISTRETTO TECNOLOGICO ICT regionale, oggi gestisce il Polo di Innovazione ICT e coordina il Cluster Nazionale sulle Tecnologie per le Smart Communities. La sua missione è contribuire allo sviluppo economico del territorio e agire come acceleratore di innovazione e di crescita delle imprese del settore ICT o che impiegano le tecnologie ICT come fattore strategico di competizione. Inoltre Torino Wireless è facilitatore nella gestione di processi e progetti complessi per la Pubblica Amministrazione e per le Smart City.
La Fondazione è centro di attrazione di un network di aziende grandi, medie e piccole, centri di ricerca pubblici e privati che sviluppano soluzioni innovative per molti settori, dall'energia alla mobilità, dal building al turismo, dal monitoraggio ambientale all'agroalimentare, dalla sanità al banking.
Le imprese piemontesi si rivolgono alla Fondazione per ottenere supporto e accompagnamento su bandi e progetti finanziati (misure regionali, nazionali o comunitarie) e per la ricerca di partner e l'avvio di collaborazioni fra imprese, anche attraverso l'adesione a filiere tematiche in supporto alla costruzione di offerte commerciali congiunte.