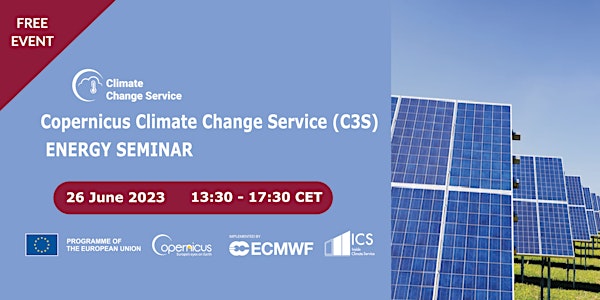 Copernicus Climate Change Service (C3S) ENERGY SEMINAR
Onsite Seminar showcasing the C3S Energy climate service for the energy sector and improve its catalogue with additional energy data sources
By Inside Climate Service
Date and time
Monday, June 26 · 1:30 - 5:30pm CEST
Location
GALZIGNANO RESORT TERME & GOLF Viale delle Terme, 84 35030 Galzignano Terme Italy
About this event
Join the Copernicus Climate Change Service (C3S) ENERGY SEMINAR
ONSITE
GALZIGNANO RESORT TERME & GOLF
Viale delle Terme, 84
35030 Galzignano Terme Italy
26 June 2023
13:30 to 17:30 CET!
The aim of the seminar is to gather information to improve the underlying energy data and the catalogue of energy indicators that the C3S Global Energy Climate service is producing. The C3S Energy team is particularly keen to hear from you about any additional energy data sources and the identification of new energy indicators.
The C3S Energy service is being developed with funding from the Copernicus Climate Change Service (C3S) which is implemented by ECMWF on behalf of the European Commission.
The C3S Energy service is also developed though a partnership with the lead contractor Inside Climate Service S.r.l. (ICS), and subcontractors CNRS, ARMINES, EDF, EVEROZE, DTU, and ENEL, with input from energy sector stakeholders.
The seminar will be chaired by Dr Alberto Troccoli (Founder & CEO of ICS), with contributions from major experts in the energy and climate sectors. As a key-stakeholder, your opinions and expertise are crucial to the discussion. Through questions & answers, every participant will have the opportunity to contribute to the improvement of the C3S Energy Climate service.
To attend the seminar no registration fee is required.
Find the programme and the agenda here
Reserve your spot now on Eventbrite!
During the C3S Energy Seminar we will showcase the two C3S Energy Climate services: the Global version and the European version tailored to ENTSO-E's requirements.
Join us and get the opportunity to
• Connect with experts in the energy and climate sectors
• Participate in the discussion about
1. Global energy data availability, their collection and how to use them at their best for climate-energy conversion models
2. Energy indicators to be developed as part of the C3S Enhanced Energy operational system
3. The use of climate and energy projections for ENTSO-E's planning