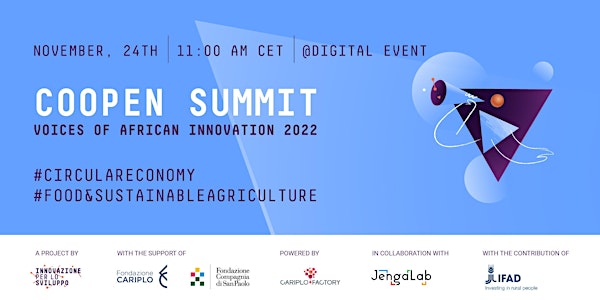 Coopen | Voices of African Innovation 2022
Coopen Summit | Voices of African Innovation
Date and time
Thu, 24 Nov 2022 02:00 - 08:00 PST
About this event
Coopen is a participatory path promoted by Innovazione per lo Sviluppo, the program by Fondazione Cariplo program and Fondazione Compagnia di San Paolo with the aim of promoting innovation in the international cooperation sector. Coopen avails of the technical support of Cariplo Factory, Tiresia, JengaLab and Effecinque.
AGENDA
11:00-11:35 | Welcome and institutional greetings,  Gladys H. Morales, Senior Innovation Adviser at the Change Delivery and Innovation Unit - IFAD ​
11:35-11:55 | Keynote Speech on  Food  and  Sustainable  Agriculture  or  Cooperation and Development, Caroline Legros, Deputy Director Innovation and Knowledge Management Division - World Food Programme
11:55-12:30 | Projects presentation
12:30-13:00 | Networking Session / Q&A
13:10-14:00 | Lunch Break + One to One ​
14:00-14:20 | Keynote Speech on Circular Economy,  Amelia Kuch, Circular Economy Policy Manager - Ellen MacArthur Foundation ​
14:20-15:00 | Projects presentation
15:00-15:30 | Networking Session / Q&A
15:30-16:10 | Projects presentation
16:10-16:40 | Networking Session / Q&A​
16:40-17:00 | Closing keynote speech, Maximo Torero, Chief Economist – Food and Agriculture Organization FAO
About the organiser
Cariplo Factory è un hub di Open Innovation, Talent Management e Corporate Social Responsibility, promosso da Fondazione Cariplo con l'obiettivo di generare 10 mila job opportunities in tre anni e favorire la scale-up delle startup italiane più innovative.
Cariplo Factory è un ecosistema aperto e dinamico che favorisce la libera circolazione delle idee attraverso la contaminazione di know-how ed esperienze nel campo dell'innovazione digitale, culturale e sociale.