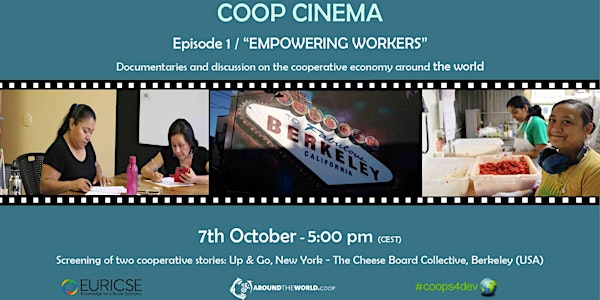 Coop Cinema | Episode 1 "Empowering workers"
What does an online platform for cleaners in New York have to do with a bakery in Berkeley? Discover it at "Coop cinema | Episode 1"
About this event
A trip around the world in three webinars recounting the cooperative economy through the work of Around the World.coop and commentary from Euricse. "Coop cinema" is a series of online events from October to December featuring screenings of a selection of documentaries produced by Sara Vicari and Andrea Mancori, each followed by reflections from our researchers on the key themes, such as cooperative models, governance, the future of work, and local development.
The first episode is about "Empowering workers". We will screen two documentaries featuring Up&Go cooperative in NY (USA) and Cheeseboard Collective in Berkeley, CA (USA). Around the World collaborators and sponsors will be joined by Riccardo Bodini, Euricse director, and Giulia Galera, Euricse senior researcher, to comment on the two documentaries and discuss the key cooperative themes with participants.
Please register in order to receive the link to the event. The screening and Q&A will be held on Zoom and attendees' video and audio will automatically be off and we will kindly ask you to keep them off. You will be able to interact with the discussion panel and ask questions and make comments in the chat box.
Zoom link to attend the event https://bit.ly/3cl0pHW
Euricse's mission is to promote knowledge development and innovation for the field of cooperatives, social enterprises and other nonprofit organizations engaged in the production of goods and services. The Institute aims to deepen the understanding of these types of organizations and their impact on economic and social development, furthering their growth and assisting them to work more effectively. Through activities directed toward and in partnership with both the scholarly community and practitioners, including primarily theoretical and applied research and training, we address issues of national and international interest to this sector, favouring openness and collaboration.
aroundtheworld.coop is a project dreamt and developed by Andrea and Sara, a married couple who decided to put together their passions and skills and embark on a thrilling experience of a lifetime: travelling around the world for one year, documenting different sorts of cooperatives on all the continents.