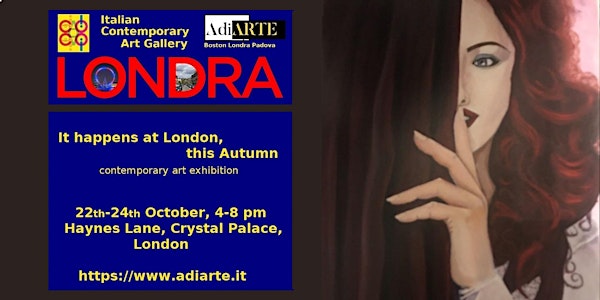 Contemporary Art Exhibition: It Happens in London, this Autumn
The exhibition will be hosting 35 emerging artists, coming to London in October!
About this event
Join us from 18th-22th October at "Free the Gallery", Crystal Palace, London, from 4 pm to 8 pm.
"Italian Contemporary Art Gallery" will be showcasing an excellent and engaging selection of affordable artworks newly arrived in London, all by emerging artists, featuring an wide variety of styles - from figurative to abstract, to symbolic - and subjects matters - from portraits to landscapes, as well as fantastic and symbolic.
A great opportunity to add an original Italian artwork to your collection or start one anew.
Visit our website at https://www.adiarte.it. For any further information, e-mail us at simon@adiarte.it