Event Information
Refund Policy
Contact the organizer to request a refund.
Eventbrite's fee is nonrefundable.
JOLLY "COMEDY LAB" Corso di scrittura comica & stand up DOCENTE: Alessandro Ciacci World Wide Theatre
About this Event
JOLLY "COMEDY LAB" - scrittura comica e stand up
Docente: Alessandro Ciacci
https://www.youtube.com/watch?v=Cbf_ForJ3uE&feature=emb_logo
https://aguilar.it/comici/alessandro-ciacci/
Per chi voglia seguire il corso online in modalità:
1. INTERATTIVA col docente (25 euro a lezione)
Nel caso ti inserisca a corso già avviato potrai accedere all'archivio delle registrazioni delle lezioni precedenti.
OPPURE
2. NON INTERATTIVA col docente, accedendo quindi all'archivio contenente la registrazione di TUTTE le lezioni (80 euro: tutte le lezioni).
Il corso è ovviamente disponibile anche IN PRESENZA (Cesena - teatro Jolly). Chi interessato ci contatti.
QUANDO: da dicembre 2020 a maggio 2021. Lezioni bisettimanali il giovedì sera alle 21 su google MEET.
info@WorldWideTheatre.org o WhatsApp 4379197627 per info e iscrizioni.
DESCRIZIONE BREVE DEL CORSO:
A tutti coloro che vogliono mettersi in gioco ed affrontare la scrittura comica in maniera seria e professionale. Un vero e proprio percorso nella comicità a 360°, dal monologo stand up comedy agli sketch passando per la scrittura di battute e improvvisazione col pubblico, così da formare in maniera quanto più completa ciascun partecipante.L'approccio del Lab è assolutamente pratico. Ogni partecipante avrà la possibilità di sperimentare e prendere sempre più confidenza con gli strumenti della scrittura comica così da poter risultare efficace e funzionale in vista dell'esibizione fronte pubblico. Partendo dal proprio materiale l'allievo sarà accompagnato dal momento dell'ideazione fino all'identificazione della propria chiave interpretativa. Ogni partecipante sarà chiamato ad un lavoro individuale, mirato ed esclusivo. Non verranno tralasciati i momenti collettivi di esercizio ed improvvisazione.Far ridere è un'arte e come tutte le arti richiede non solo talento ed ispirazione ma anche molta tecnica, un lavoro costante, un perfezionamento, un continuo mettersi in discussione. Ogni aspetto della performance deve essere affrontato in maniera seria e responsabile, minuto per minuto!Se è vero che in ognuno di noi c'è un comico, non può presentarsi in pubblico come un dilettante, ma deve affrontare il proprio ruolo da professionista.
Sono previste due esibizioni degli allievi aperte al pubblico presso il teatro Jolly.
Per info, costi e iscrizioni (online con interazione, online senza interazione, in presenza):
347.919.76.27 oppure info@WorldWideTheatre.org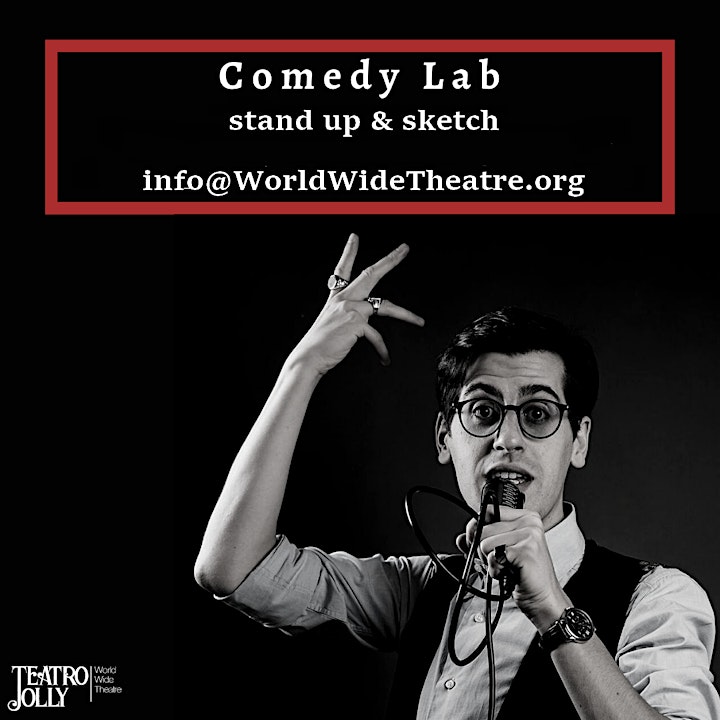 Date and Time
Location
Refund Policy
Contact the organizer to request a refund.
Eventbrite's fee is nonrefundable.