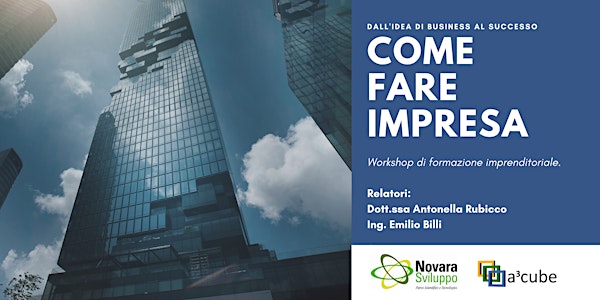 Come fare Impresa: dall'idea di business al successo
L'evento è organizzato in collaborazione tra Fondazione Novara Sviluppo e A3Cube.
When and where
Location
Fondazione Novara Sviluppo 6 Via Giovanni Bovio 28100 Novara Italy
About this event
L'obiettivo della giornata di formazione è offrire una visione concreta e significativa sul percorso che porta a sviluppare un proprio modello di business partendo da un'idea imprenditoriale. Il corso si propone di fornire le nozioni basilari per una corretta valutazione di un progetto di impresa, permettendo ai partecipanti di acquisire le competenze tecniche e operative essenziali.
L'evento è parte dell'iniziativa "Innovazione e formazione: Novara Sviluppo e A3Cube per il territorio", volta a promuovere e a divulgare conoscenze e competenze rilevanti per l'arricchimento del bagaglio sociale e culturale della Provincia, e non solo.
L'incontro si svolgerà in presenza, nel rispetto di tutte le disposizioni e protocolli anti-Covid. La partecipazione è gratuita ma, in considerazione delle limitazioni dovute all'emergenza socio-sanitaria, a numero chiuso.
Per informazioni: comunicazione@novarasviluppo.it
RELATORI
Dott.ssa Antonella Rubicco
Nominata tra le "Top 10 Revolutionary CEO's to Watchout" dalla rivista americana CIO Views e tra i 10 Business Leaders più influenti del 2020 dalla rivista americana Exeleon Magazine, Antonella Rubicco vanta un'esperienza ventennale in business e gestione di impresa.
Nel ruolo di COO e CIO di diverse società high-tech, ha coordinato attività di analisi, R&S, ingegneria e marketing di progetti complessi, nonché sviluppato partnership significative con aziende, Università, Istituti di Ricerca ed Enti Governativi internazionali.
Co-fondatrice di A3Cube, ricopre attualmente il ruolo di CEO dell'Azienda.
Come riconoscimento del suo talento imprenditoriale nell'avviare e portare al successo un'impresa, nel 2016 Michael Dell sceglie A3Cube per far parte del Dell Founder 50 Class, iniziativa che seleziona le 50 aziende più promettenti in vari settori tecnologici, a fronte di un processo di selezione molto rigido.
Dal 2017 Antonella Rubicco è inoltre parte del Silicon Valley Executive Forum.
--------------------------------------------------
Ing. Emilio Billi
L'esperienza imprenditoriale di Emilio Billi inizia nel 1996 con la creazione della sua prima azienda, pioniera nella realizzazione di sistemi di raffreddamento e nello sviluppo di reti di interconnessione a bassa latenza, in grado di offrire le prestazioni paragonabili a quelle di supercomputer di fascia alta.
Co-fondatore di A3Cube, ricopre attualmente il ruolo di CTO dell'Azienda.
Grazie ai suoi successi, nel 2017 viene nominato "Imprenditore Emergente dell'anno" dalla rivista The Technology Headlines, suggellando una carriera ventennale di notevoli traguardi imprenditoriali.
Nel 2019, in occasione del numero speciale per i dieci anni della rivista, Wired lo inserisce nella selezione delle dieci menti italiane più illuminate. La sua storia è stata raccontata da Dario Tonani, uno dei più grandi scrittori di fantascienza italiani. Nella lista, sono presenti anche grandi nomi come Dallara per l'automobilismo, l'artista Maurizio Cattelan e Stefano Boeri per l'architettura..
Nel marzo 2020 viene nominato dalla rivista Technology Innovators tra i "Top 50 Artificial Intelligence CEOs of 2020".