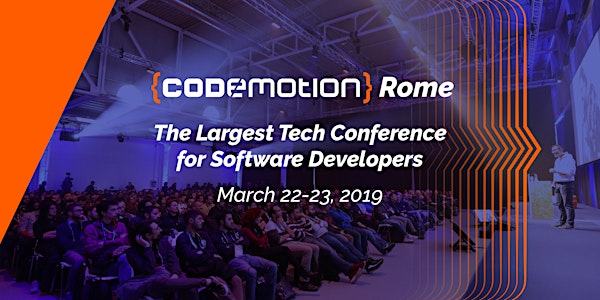 Codemotion Rome 2019 - Conference (March 22-23)
When and where
Location
Engineering Department - Roma TRE University Via Vito Volterra 60 00146 Roma Italy
Description
Codemotion Rome 2019 is the largest tech conference for developers in Europe, open to all languages and technologies.
It's a 4 days event: 2 days of workshops (March 20-21) and 2 days of conference (March 22-23).
Browse the speakers already confirmed: we're constantly updating the page, as more speakers join the event. We expect to gather 100+ speakers confirmed in the full agenda.


Standard tickets for the Conference
BLIND TICKET: 60€ (SOLD-OUT)

EARLY BIRD TICKET: 90€ from December 26 or when Blind Tickets end to January 17;

REGULAR TICKET: 110€ from January 18 until February 7;

LAGGARD TICKET: 140€ from February 8 until March 14;

LAST TICKET: 160€ from March 14 until March 21 at 5 pm;

ON DESK TICKET: 180€ directly at the event.
Special Tickets
WORKSHOP TICKET: to attend 1 of the 4 workshops held on March 20-21, Check the full list here.

COMPO TICKET SPECIAL OFFER! Only for the first 20 tickets!

COMBO TICKET: 1 WORKSHOP + CONFERENCE WITH A 15% DISCOUNT.

GROUP / COMPANY TICKET: Buy at least 5 tickets at once and save 15% on the total price / Buy at least 10 tickets at once and save 20% on the total price. Discount not available on already discounted tickets and promotions (Blind Ticket, Student Ticket, Diamond Ticket).

DIAMOND TICKET: PRICED 250€; this ticket gives you the right to attend both days of the conference and be part of Speakers' Dinner that will be held on Friday, 22nd of March.

STUDENT TICKET: 40€ only for high school, university or master students (not valid for Ph.D.). At the entrance of the conference, it is mandatory to show a document that certifies your enrolment status in the current academic year: university or high school ID or any other document with dates (last paid tax receipt, for example). The ticket gives you the right to attend both days of conference.
We remind you that you can transfer your ticket to another person but you can't ask for the refund. Transfers available until March 14.

The invoice will be sent within the first 10 days of the following month you purchased the ticket/tickets.
For any question please contact rome@codemotion.it.