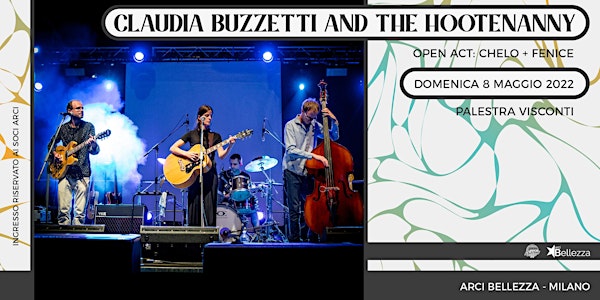 Claudia Buzzetti & The Hootenanny + open act: Chelo & Fenice
Claudia Buzzetti & The Hootenanny + open act: Chelo & Fenice
When and where
Location
Circolo Arci Bellezza 16/A Via Giovanni Bellezza 20136 Milano Italy
Refund Policy
Contact the organizer to request a refund.
Eventbrite's fee is nonrefundable.
About this event
Claudia Buzzetti & The Hootenanny
Open Act: Chelo & Fenice
Palestra Visconti, Arci Bellezza • Milano
Domenica 8 Maggio 2022 _ H.21
Live Rassegna ATuXTour 2021-2022
The Hootenanny sono un gruppo country/indie nato nel 2019 a partire da alcune canzoni di Claudia Buzzetti. Oltre a Claudia il gruppo è composto da Thomas Pagani (chitarra, voce), Matteo Milesi (batteria, percussioni), Simone Pagani (basso, contrabbasso).
Claudia arriva da un background di musica jazz, la sua prima vera passione, per poi scoprire la musica folk americana e innamorarsi del mondo country ancora in voga tutt'oggi in USA. Dopo una breve permanenza negli USA, insieme ad una formazione di musicisti professionisti, Claudia registra il primo Ep "7 Years Crying" uscito per Edonè Dischi nel giugno 2021.
OPEN ACT: CHELO
Andrea Calogero, in arte "Chelo", è un cantautore catanese classe '97, torinese d'adozione. La sua musica è un incrocio tra il pop nudo e crudo e la vecchia scuola del cantautorato all'italiana. La spigliatezza intima ed ironica allo stesso tempo dei suoi testi gli permette nel 2018 di avere un pass per lasciare un segno, per quanto piccolo, nella scena torinese: è uno dei 14 artisti selezionati per il progetto Sità Scotè, vincitore del bando AxTo, un docu-album volto a raccontare le realtà più sconosciute della città usando testimonianze e musica, per cui ha scritto "Paradiso 3x3" con gli ArtBeat, presentata il 14 maggio al Jazz Club Torino e poi seguita da altri live sparsi per il Piemonte. Il suo primo singolo "Un Fotografo" è uscito il 29 maggio 2019.
Dopo quasi due anni di inattività, il 14 maggio 2021 è uscita "Tutto di Nietzsche". Il 3 settembre è stata pubblicata "Cinquanta6", primo singolo che anticipa un EP la cui uscita è prevista per marzo 2022. Il 17 dicembre uscirà la seconda canzone estratta come anticipazione dell'EP, "Giovinezza", in featuring con la cantautrice Francamente, distribuita da ArtistFirst. Negli anni ha condiviso il palco con artisti come gli Eugenio in Via Di Gioia, Cecco e Cipo, Colombre, Bianco e Nuvolari.
OPEN ACT: FENICE
Questa è la mia strada in salita cammino babe,
voglio dare cento, non sbaglio, sul palco mi guardi già,
come una star,
così piccola,
scrivo sul tram,
sai non ho più tempo mentre il cielo piange
resto innamorata di quest'attimo,
ora svegli pensieri si che nascondo,
tu mi guardi a fondo baby, nonono,
ma stasera ballo un lento,
sopra sto cuore ti sento,
voglio di più,
tuoni lontani come ricordi andati,
un pianoforte che suona in una stanza immobile,
arrivo si alla vetta me lo sono promessa,
gridò forte al mondo là fuori.
@claudiabuzzetti
@_the_hootenanny
@atuxtour
@edonedischi
@fenicewords
@vaffanchelo
_______________
Prevendite Consigliate: https://bit.ly/3DJxcmk
Ingresso Riservato ai Soci ARCI // Se non sei ancora socio compila il modello di pre-adesione qui: https://portale.arci.it/preadesione/arcibellezza/
#arcibellezza 🚩 https://arcibellezza.it/