Event Information
Refund policy
Contact the organizer to request a refund.
Eventbrite's fee is nonrefundable.
Risveglia la Dea Interiore
About this event
La danza del ventre è una delle forme di danza più antiche, è comparsa con l'umanità fin dalle prime civiltà e se ne trovano tracce fino al Neolitico. Certo, la sua forma antica era molto diversa da quella che vediamo oggi, ma sapere che questa forma di danza ha accompagnato l'umanità per così tanto tempo racconta anche l'importanza maggiore che la danza e la musica hanno avuto nella vita dei nostri antenati.
Mentre balli e ti muovi seguendo i ritmi e la melodia, il tuo corpo gradualmente Ogni movimento parte dalla connessione con la Madre Terra, da cui l'energia si sviluppa e fluisce nei nostri fianchi e nel nostro torso.
Ogni movimento richiede un profondo senso di incarnazione, stabilità e radicamento. I movimenti eleganti e sensuali che hanno caratterizzato questa danza risultano essere più profondi di quanto non sembrino.
Profondamente radicata nei rituali cerimoniali dedicati alla Dea come Iside, Cibele e Innana, la Danza del Ventre o Danza Orientale è di gran lunga lo stile di danza che più invita le donne, e gli uomini, a connettersi a un'energia femminile profonda e creativa che ha è stato tenuto per troppo tempo dormiente dentro di noi, risvegliato a un più profondo senso di consapevolezza che libera l'energia creativa che in cambio ti dà un senso di potenziamento, creatività, sensualità, grazia e forza.
"Non c'è Belly Dancer che conosco che si sente insicuro."
"La danza del ventre ti rende divina."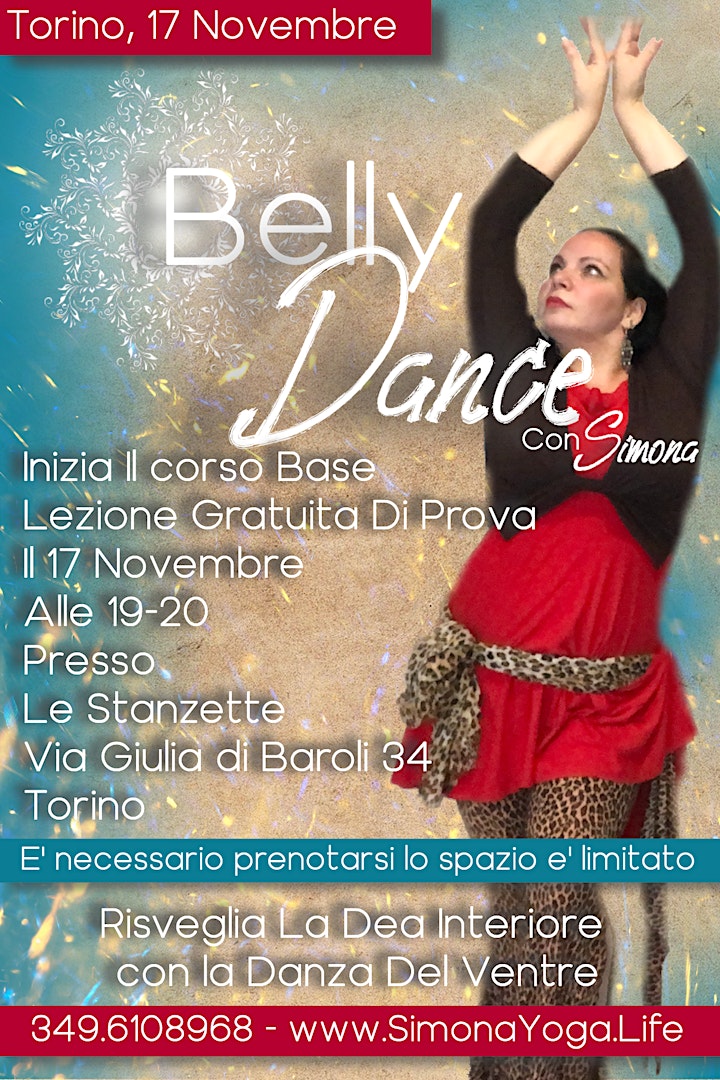 Inizia il corso base a Torino presso il centro:
"Le Stanzette" Via Giulia Di Barolo 34
Dalle 19:00-20:00
Prenotazione obbligatoria
Durante questo corso base impararemo i movimenti base ed essenziali della danza del ventre. Imparermo la storia, la cultura di questa bellissima forma di danza e arte, e impareremo a muoverci correttamente, con coerenza e integrita' per mantenere intatta la bellezza di questa danza che fin dall'antichita' era dedicata alla Dea e quindi all'energia dl femminnile in ognuno di noi.
E' risaputo che la danza del ventre aiuta ogi donna ma anche uominni a connettersi con il loro lato femminile, evocando una sensualita' naturale ed elegante. Chi pratica la danza del ventre con regolarita' dice di sentirsi piu' sicura di se, piu femminile, piu stabile e forte fisicamete.
Infatti tra i tanti benefici di questa danza c'e un lavoro profondo sul senso di sicurezza e confidenza personale, oltre a giovarne il corpo fisico e la mente.
​Inoltre e' una danza divertente che porta gioia ee allegria!
Il corso e' aperto a tutti anche a coloro che non hanno mai danzato!
Leggi qui di sotto tutti i dettagli del corso:
Programma indicativo (potrebbe cambiare in base alle esigenze del gruppo:
Classi dalla 1-12:
Postura di base e flusso di energia: ginocchia e fianchi, hip slide, hip push
Camminare, introduzione allo shimmy, Hip Drop, Hip bounce
I movimenti a 8 verticale, orizzontale, trasversale
Tutti i cerchi
Movimento del torace, spostamento nello spazio
Hip drop col calcio, il passo dell'anatra zoppa, il passo del pinguino
Hip Twist statico e camminato
Chu chu shimmy
Mani e bracchia
Classi dalla 13-24:
Coreografia parte I e II, forma a 8 con un fianco, camminata egiziana
Coreografia parte III e IV, hip drop con kick camel walk, ondulazione di base
Coreografia Parte V e VI, interpretazioni ed emozioni nella danza Coreografia completa
Costo:
Prima Classe Euro 13
Classe Singola Euro 17
Abbonamento mensile (Consigliato): Euro 50/mese (da acquistare attraverso il link qui di seguito: https://buy.stripe.com/aEUcOcbImd15aSk8ww)
Per informazioni contattare Simona:
email: simonayogaedanzaitalia@gmail.com
telefono: 3496108968
telegram: @simmonadevi
website: www.SimonaYoga.life
Location
Refund policy
Contact the organizer to request a refund.
Eventbrite's fee is nonrefundable.
Organizer of Classi Settimanali di Danza Del Ventre a Torino In-Presenza
Professional Yoga Teacher, and Artist and Former Dance Performer.
Simona Evoli is an anthropologist of Performance and Historian of Dance & Theater, holding a Master Degree from the University of Turin, Italy.
She founded her Yoga and Sacred Dance school in the U.S., but she travels a lot for teaching and connection porpuses, and she si the founding creator of Kundalini Rhythms Dance, a sacred dance style thta itertwines dance with Qigong, meditation and energy healing.
Simona Evoli has studied Indian Classical Dance in India where she has the chance to deeply connect to this beautiful Sacred dance tradition. Her deep connection to the style and culture earned her the title of "An Indian soul inside an Italian Body" by her Bharatanatyam teeacher.
She has dedicated the last 20 years to develop her own Mystic Dance technique to help others to connect with their inner beauty, grace, and creativity. she believs it is possible to teach people to dance, and appreciate this art from an artist point of view, a spiritual point of view and a creative prospective.

Trained in different yoga and dance styles, Simona is a unique teacher, versatile and knowledgeable, very focused on details that can help students to feel secure and strong during their dance learning journey as well as when they are ready to create their own.
Dharma offers retreat and workshops as well as training all over the world. As of now she teaches only online including training.