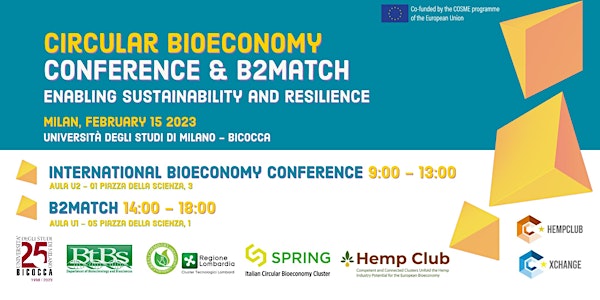 Circular bioeconomy conference: enabling sustainability and resilience
Join the conference and the B2B event on circular economy
Date and time
Wed, 15 Feb 2023 09:00 - 13:00 CET
Location
Università degli Studi di Milano-Bicocca Piazza della Scienza 20126 Milano Italy
About this event
The conference is organized by HempClub, a COSME-funded European project coordinated by the Lombardy Green Chemistry Association. Bringing together 7 partners from 4 different European countries, the project aims to unfold the potential of hemp as a promising biomass for circular and bio-based applications through the creation of integrated value chains and new business opportunities for farmers and producers.
In this context, the Circular bioeconomy conference: enabling sustainability and resilience aims to demonstrate how circular bioeconomy models can respond to the challenges of today's world, including the energy crisis, raw material shortages and climate change. During the conference, concrete case studies will be presented in the form of funded projects that, through research and innovation, aim to overcome these challenges, and companies that, by pursuing sustainability and circularity in their productions, have developed resilient business models to the moments of crisis faced in recent years. The conference will also include a focus on hemp aiming to demonstrate its potential in the production of bio-based and circular products. The conference, organized in collaboration with the University of Milano-Bicocca, is open to students, researchers, professors, companies and public authorities!
Companies are also invited to join the B2B and matchmaking that will be held in the afternoon aiming to create new business opportunities in the bioeconomy sector. B2B is an excellent opportunity to meet new potential customers, suppliers and cooperation partners. Companies operating in different application sectors (from cosmetics to buildings, including food, green chemistry and many others) are invited to join this event. Specific matching will be pre-arranged based on each company profile and expectations maximizing your possibilities to meet the right partners for your innovation!
Agenda
8:30 AM - 9:00 AM
Accreditation
9:00 AM - 9:15 AM
Welcome and introduction to the conference
Ilaria Re - Lombardy Green Chemistry Association
9:15 AM - 9:45 AM
Circular bioeconomy in challenging times
9:45 AM - 10:00 AM
RURALBIOUP project
Leonardo Gaiani - Cluster SPRING
---
Empowering EU Regions to sale-Up and adopt small-scale Bio-based solutions: the transition towards a sustainable, regenerative, inclusive, just circular bioeconomy
10:00 AM - 10:15 AM
The REPURPOSE Project
Lena Decuyper - Bio-based Europe Pilot Plant
---
Repurposing post-consumer waste into recyclable rubbery plastics
10:15 AM - 10:30 AM
Carbohydrate and protein wastes for a circular bioeconomy approach
Prof. Laura Cipolla - UNIMIB
10:30 AM - 10:45 PM
ROELMI - a bio-based success case in the Health and Personal Care market
Dott. Stefania Zanzottera
11:00 AM - 11:15 AM
LIVEGREEN - a bio-based business model based on organic Spirulina production
10:45 AM - 11:00 AM
FLANAT - Scientifically and clinalically proved bio-based ingredients
11:15 AM - 11:45 AM
BREAK
11:45 AM - 12:00 PM
The HempClub project
Sara Daniotti - Lombardy Green Chemistry Association
12:00 PM - 12:15 PM
Presenting hemp-based success cases in the form of a funded project
12:15 PM - 12:30 PM
Produce Sinapsi srl - hemp based textile
12:30 PM - 1:00 PM
Q&A and conclusions