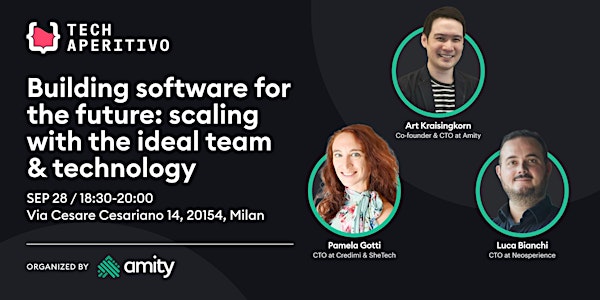 Building software for the future: scaling with the ideal team & technology
Tech Aperitivo is a series of fireside chats to talk about critical topics for CTOs, senior developers, product managers, and tech leaders.
When and where
Location
Amity Office 14 Via Cesare Cesariano 20154 Milano Italy
About this event
The first Tech Aperitivo will focus on software scaling: How can you build and scale your product in a way that it will stand the test of time? To be future-proof, you need to be able to scale both the team and the technology.
Just as it is strategic to choose and manage the technologies and languages for development, it is also to choose and manage the right people for the critical roles within the team.
Art Kraisingkorn, Co-founder & CTO @ Amity, will talk about this with two guest speakers:
Pamela Gotti, CTO @ Credimi | CTO @ SheTech | AWS Hero | Codemotion Ambassador
Luca Bianchi, CTO @ Neosperience | CTO @ WizKey | AWS Hero | Co-founder of the Serverless Italy Meetup
Join us for a tasty dose of food for thoughts... and actual aperitivo food and drinks!
The Tech Aperitivo will take place on Wednesday, September 28th, at 6:30 pm, in Amity Office (Via Cesariano 14, Milano)!
Reserve your spot as we have limited space!