Brainstorming Arena 2011

Saturday, November 19, 2011 from 3:00 PM to 6:00 PM (CET)
Event Details
Brainstorming Arena è un evento di networking dove startup e imprenditori in cerca di capitale si incontreranno con investitori a caccia del prossimo deal, dove aspiranti imprenditori ascolteranno i consigli di chi ha avuto successo.
L'Arena è un format interattivo: 3 ore di aperitivo con un ricco buffet, intervallate da brevissime presentazioni di 5 min in una bellissima location. Oltre ad imprenditori ed investitori, chiunque può partecipare e presentarsi.
La registrazione all'evento e' gratuita e obbligatoria.
Vuoi salire sul palco per 5 minuti?
Per poter intervenire all'evento presentando la propria idea di impresa o il proprio fondo di investimento o semplicemente per contribuire in maniera costruttiva alla serata, è necessario compilare un breve form. Puoi farlo durante l'iscrizione oppure, anche in un secondo momento, a questo link [ATTENZIONE: a causa delle moltissime richieste arrivate, dal 16 novembre possono continuare ad iscriversi solo gli investititori scrivendo a investitori@istitutoimprenditorialita.it]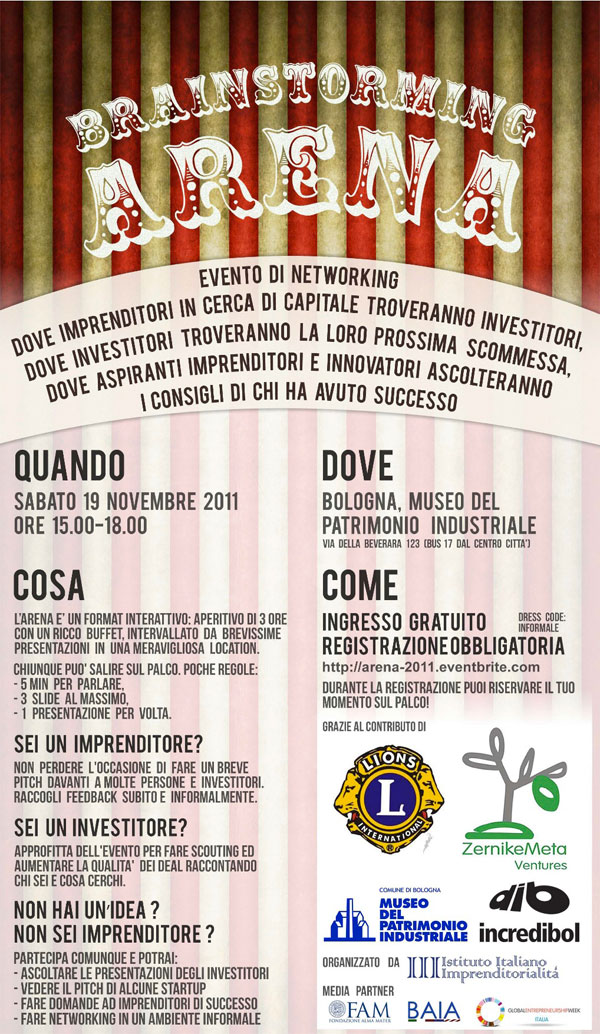 L'evento è organizzato dall'Istituto Italiano Imprenditorialità, nell'ambito della Global Entrepreneurship Week.
When & Where

Museo del Patrimonio Industriale
via della Beverara 123
Bologna
Italy


Saturday, November 19, 2011 from 3:00 PM to 6:00 PM (CET)
Add to my calendar
Organizer
L'Istituto Italiano Imprenditorialità è un'organizzazione senza scopo di lucro e privata, nata per promuovere lo spirito imprenditoriale e l'innovazione nel contesto locale con iniziative a respiro nazionale ed internazionale, nonché con l'attività di ricerca.