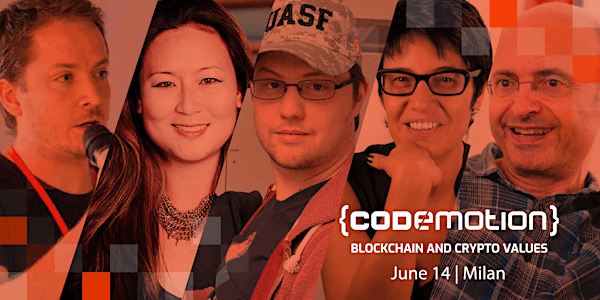 Blockchain and Crypto Values Conference - BUSINESS SPECIAL
When and where
Location
East End Studios via Mecenate, 88/A 20138 Milano Italy
Description
BLOCKCHAIN AND CRYPTO VALUES CONFERENCE
Codemotion is excited to present its first single-track Conference dedicated to Blockchain technologies!
Some of the most representative international professionals will talk about their experiences working with blockchain technology.
This one-day conference will be a unique occasion for field professionals, companies and developers to meet and share their knowledge and thoughts as well as adding valuable connections to their network.
THE BUSINESS TICKET INCLUDES:
1 day conference full access
Conference Mobile App
Business welcome kit with tech gadgets
Relaxing coffee breaks
Exclusive lunch
Networking aperitif
Exclusive access to speakers networking area
Invitation to join the conference Telegram channel
Invitation to join the conference LinkedIn group
Keynote video after event
Reserved parking inside the venue
Fast track entrance
WHY SHOULD ATTEND
Hear the latest strategies from international experts on Blockchain, Crypto Values, Smart Contracts and Decentralized Applications.
Amazing speakers will help you to take a deep-dive into the Blockchain technology in order to fully understand this ecosystem.
The future belongs to Blockchain technologies, as they are changing reality and economy's operating principles in every sector.
Acquire experience on how Blockchain technology works, where and how it can be useful.
Leading IT companies will share their experiences with Blockchain technologies.
Network and get in touch with international Blockchain experts, industry leaders and developers to expand your connections.
OUTSTANDING SPEAKERS:
PETER TODD, Decentralized Consensus Consultant and Bitcoin Core Developer
WILLIAM MOUGAYAR, Author of The Business Blockchain
GIACOMO ZUCCO, Bitcoin Evangelist, Technology Consultant, Libertarian Activist, Nerd
RAFFAELE MAURO, Author of Hacking Finance
SIMONA MACELLARI, Director of BLOCKCHAINLAB
AUDREY CHAING, Cryptocurrency Trader and Blockchain Analyst at Blockchaing
ADAM "SECCOUR" SCHNEIDER, Bitcoiner, Crypto-anarchist and Cypherpunk
STEFANO GATTI, Head of Innovation & Data Sources at Cerved
LUCA NIZZARDO, Cryptography Researcher at IMDEA Software
GIORGIO MAZZOLI, UN Representative at ADF International
RICCARDO CASATTA, CEO at Eternity Wall
ALESSANDRO CADONI, CEO at Friendz
MARTA GHIGLIONI, Leadership team Member at SingularityU Milan
ANDREA MEDRI, CFO at The Rock Trading
STEFANO CAPACCIOLI, Founding Partner at CoinLex
Want more? Check the Agenda!