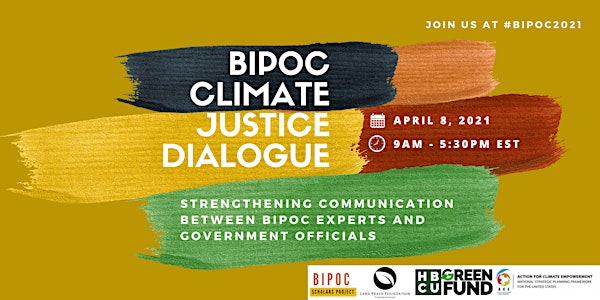 BIPOC Climate Justice Dialogue
A dialogue between Black, Indigenous, and People of Color climate justice experts and U.S. government officials
About this event
The day-long BIPOC Climate Justice Dialogue is an opportunity for Black, Indigenous, and People of Color (BIPOC) climate justice scholars, organizers, and funders to discuss national climate goals and priorities with administration officials in advance of the Biden-Harris Leader's Climate Summit.
Discussions will feature Administration and federal agency representatives and BIPOC climate justice leaders. Topics to be discussed include BIPOC priorities for the just transition, culturally responsive climate action, White House climate priorities, and integration across federal agencies. The dialogue will also introduce the community-driven U.S. framework for Action for Climate Empowerment (ACE), as recommended in Article 12 of the Paris Agreement.
Speakers include:
Hon. John Kerry, United States Special Presidential Envoy for Climate
Hon. Gina McCarthy, White House National Climate Advisor
Representative Alma Adams (D-NC 12) and Senator Ed Markey (D-MA)
Shalanda Baker, Deputy Director for Energy Justice & Secretary's Advisor on Equity at the United States Department of Energy
Tara Houska, Tribal attorney and founder of the Giniw Collective
Elizabeth Yeampierre, executive director of UPROSE and co-chair of the Climate Justice Alliance
Jacqueline Patterson, director of the NAACP Environmental and Climate Justice Program
Fatemeh Shafiei, Ph.D., Associate Professor and Chair of Political Science, Spelman College
Mustafa Santiago Ali, Vice President of Environmental Justice, Climate, and Community Revitalization
And many more!
Advocates, scholars, experts, government officials and community members working to advance just climate policy are invited to participate. Space is limited.
This special gathering is collaboratively hosted by the managers of the BIPOC Scholars Project, the Land Peace Foundation, the HBCU Green Fund, and the Coordinating Team for the U.S. ACE National Strategic Planning Framework.