Cet événement est terminé.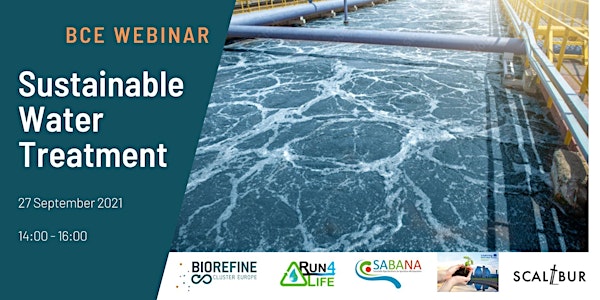 BCE Webinar on Sustainable Water Treatment
The event will discuss the sustainable water treatment
Par Biorefine Cluster Europe
Date et heure
lun. 27 sept. 2021 05:00 - 07:00 PDT
À propos de cet évènement
In this second BCE Webinar, Phos4You, SCALIBUR, SABANA and Run4Life, members of the Biorefine Cluster Europe, will present the work and outcomes on sustainable water treatment.
The session will be moderated by Frank Rogala, Director of Innovation at Aqualia
Speakers and presentations:
14:00 - 14:10 Introduction, Biorefine Cluster Europe
14:10 – 14:30 Overview of the approaches taken at the four demonstration sites to recover nutrients and biogas from source-separated domestic wastewaters, Iemke Bisschops (RUN4LIFE)
14:30 – 14:50 Microalgae related wastewater treatment processes, Francisco Gabriel Acien Fernandez (SABANA)  
14:50 – 15:00 Coffee break – Q&A poll
 15:00 – 15:20 - Possible scenarios for P recovery at a large German waterboard, Dennis Blöhse (Phos4You)
 15:20 – 15:40 From wastewater treatment plants to biofactories, Ledicia Pereira (SCALIBUR)
15:40 – 16:00 Round table discussion
À propos de l'organisateur
You are cordially invited by the Biorefine Cluster Europe