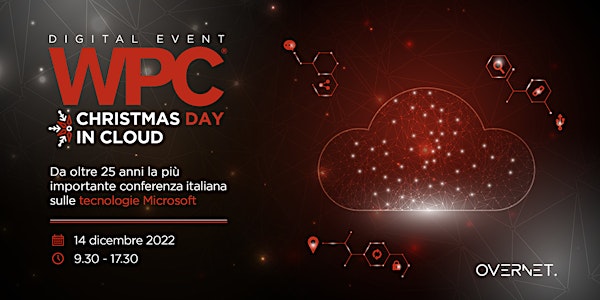 WPC DAY 3 - A Christmas day in Cloud
Il terzo appuntamento dei WPC DAYS dedicato al mondo in Cloud!
Informazioni sull'evento
Il terzo WPC DAY dell'anno sarà interamente dedicato al mondo Cloud.
Dopo il grande successo di WPC 2022, finalmente in presenza con numeri da record grazie a oltre 80 sessioni tecniche e più di 100 speaker, i responsabili agenda delle 4 track Development, IT Pro & Security, Data Platform, Microsoft 365 & Power Platform, si riuniscono virtualmente per una edizione speciale di WPC DAY: Christmas day in Cloud!
Saliranno sul palco virtuale dell'evento assieme a numerosi esperti del mondo IT, esplorando il mondo del Cloud in tutti i suoi aspetti.
Appuntamento online per il 14 dicembre!
Speaker e Agenda
Fabio Franzini, CEO Apvee Solutions, Business Applications & Office Development MVP, parlerà di "estendere Microsoft 365 utilizzando SPFx e Power Platform".
Alessandro Appiani, IT Consultant & Trainer, Cloud Solution Architect per Durante SpA, Microsoft MCT e MVP Reconnect su Teams / Office Servers, Mentor & Speaker dal 1996. La sua sessione sarà su "Microsoft Teams Tips and Tricks – Meeting and Calling".
Michele Sensalari, Senior Consultant, CTO Overnet, Microsoft MVP Enterprise Mobility affronterà l'argomento "DaaS Security Best Practices".
Michele Aponte, CTO Ellycode, CTO Improove Skills, MVP Developer Technologies & AI, Founder Blazor Developer Italiani. La sua sessione è "Dashboarding e Data Visualization con il linguaggio naturale".
Marco Parenzan, Senior Solutions Architect in beanTech, Microsoft Azure MVP, 1nn0va Community Lead, parlerà di "Azure Synapse Analytics for your Big Data".
Lorenzo Grasseni, Trainer & IT Specialist per OverNet e Mario Serra, IT Senior Consultant, Modern Workplace & Security Specialist, illustreranno "Tutto quello che puoi fare con Microsoft 365 Business Premium".
Marco Moioli, Cloud Solution Architect per Microsoft, esporrà una "Introduzione a Microsoft Defender External Surface Management".
Riccardo Corna, Senior Consultant per Microsys, parlerà di "macOS in sicurezza con Defender for Endpoint e Intune".