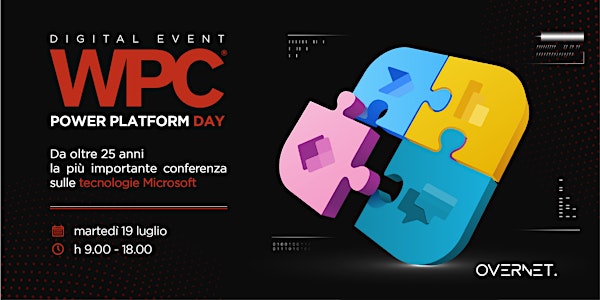 WPC DAY 2 - Power Platform Day
Il secondo appuntamento dei WPC DAYS dedicato alle potenzialità di Power Platform!
Informazioni sull'evento
WPC DAY interamente dedicato al mondo Power Platform e alla low-code revolution.
Vedremo le novitá della piattaforma che permette a chiunque di poter creare applicazioni, bot, flussi e report, sfruttando la piattaforma leader di mercato nei servizi low-code.
Parleremo di: Power Apps, Power Automate, Power BI, Power Virtual Agent, Security
Agenda e Speaker
Fabio Franzini, Founder & CEO di Apvee Solutions e Microsoft MVP, e Luise Freese, Freelance e Microsoft MVP, saranno i relatori di "How to build Power Apps Canvas applications that adapt to context"
Angelo Gulisano, Productivity Solutions Manager di NPO Sistemi e Microsoft MVP, parlerà di "Microsoft Dataverse e Dataverse for Teams per le tue Applicazioni Aziendali"
Davide Becco, Project Manager di MESA spiegherà "Come integrare Power BI in un'applicazione proprietaria e favorirne le funzionalità!"
Marco Pozzan, CTO di Cargo BI e Microsoft MVP, ci illustrerà "Power BI Datamart: cos'è e perché dovresti usarlo?"
Andrea Martorana Tusa, BI Front-End Engineer di Pandora e Microsoft MVP, ci condurrà nella seconda delle due sessioni su Power BI, con "Registrare la vostra posizione e le vostre attività senza codice con la Power Platform"
Michele Sensalari, CTO di OverNet e Microsoft MVP, parlerà di "Migliorare la conformità dell'implementazione di Power BI e proteggere i dati aziendali sensibili con Microsoft Purview"
Marco Rocca, Senior Customer Engineer di Microsoft, e Alessandro Borgogno, Power Platform Technical Specialist di Microsoft, terranno la sessione "AI Builder in azione"
Luca Forti, Software Solutions Analyst di 4Ward PRO, risponderà alla domanda "Digitalizzare un processo in 40 minuti è possibile? Sì, con Power Automate"
Danilo Capuano, Technical Delivery Manager & Office Manager di Agic Technology e Microsoft MVP, sarà il relatore di "Introduzione a Microsoft Power Pages"
Marco Castaldelli, Technical Specialist di Microsoft, affronterà il tema "L'automazione non è un'isola".