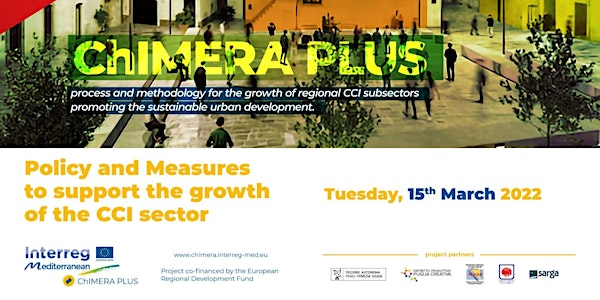 Workshop: "Policies & measures to support the growth of the CCI sector"
Workshop: "Policies & measures to support the growth of the CCI sector" 15/3/22 h. 16.00-17.30, Zoom - Progetto ChIMERA Plus
Informazioni sull'evento
Italian
Puglia Creativa organizza il prossimo 15 marzo alle ore 16.00, il workshop online: "Policies & measures to support the growth of the CCI sector" per presentare le opportunità create a supporto del settore culturale e creativo da parte delle politiche europee e alcune misure innovative come i Creative Industries Voucher (Kreativwirtschaftsscheck) promossi in Austria.
Ne parliamo con:
Alessandra Proto – Responsabile OCSE - Trento Centro per lo Sviluppo Locale, Centro per l'Imprenditoria, le PMI, le Regioni e le Città
Gabriele Rosana – Policy Director Culture Action Europe
Gerin Trautenberger – Presidente of Kreativwirtschaft Austria
L'evento si svolgerà online in lingua inglese, per partecipare è necessario registrarsi qui
Collegati qui alle 16:00 per partecipare all'incontro.
---
L'evento è promosso nell'ambito del progetto ChIMERA Plus finanziato dal Fondo Europeo di Sviluppo Regionale
English
On Tuesday, March 15th at 4.00 pm, Puglia Creativa organizes the online workshop: "Policies & measures to support the growth of the CCI sector" to offer an overview of the opportunities implemented by European policies to support the development of CCI ecosystem especially after this pandemic as well as to present some innovative measures like the Creative Industries Voucher promoted in Austria.
We talk about it with:
Ms. Alessandra Proto – OECD Head - Trento Centre for Local Development, Centre for Entrepreneurship, SMEs, Regions and Cities
Mr. Gabriele Rosana – Policy Director of Culture Action Europe
Mr. Gerin Trautenberger – Chairman of Kreativwirtschaft Austria
The event will take place online in English to participate, register here
Log in here at 4pm to attend the meeting.
--
The event is promoted as part of ChIMERA Plus Project co-financed by the European Regional Development Fund.