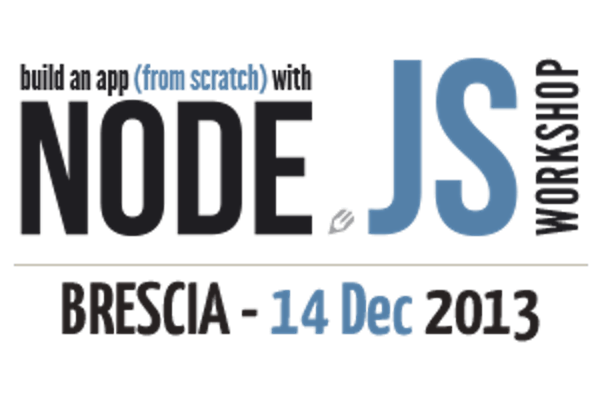 Workshop NodeJS Conf 2013
Data e ora
sab 14 dic 2013 09:00 - 18:00 CET
Località
TalentGarden Via Cipro 66 25100 Brescia Italy
Politica di rimborso
Contatta l'organizzatore per richiedere un rimborso.
Descrizione
Gabriele Lana and Sandro Paganotti will guide you through the development of a fully functional web application that uses NodeJS and AngularJS. The workshop aims to showcase how to work with the latest technology stack, we'll explore methodologies, testing techniques, tips and tricks and some nice HTML5 features, such as websockets, in a real life working application.
The workshop will be held in Italian, will take place on 14th of December and it will be hosted by Talent Garden Brescia.
Remember that you need to bring your laptop to attend the workshop. The session will be interactive.
Info sull'organizzatore
We are a local group of passionate web developers with a wide range of backgrounds and skills, from students to professionals, called WEBdeBS. The name stands for Web Developers Brescia (Brescia is the name of the city in Italy we all come from).

This group was founded one year ago with the goal to find more local people passionate like us about the web, its development, people willing to share knowledge and exchange their experiences.

We follow a very informal format on the line of the Bar Camps: sometimes we meet to drink a beer and talk about geeky web stuff and some other times we organize presentations about new technologies, frameworks, social guerrilla and web marketing, etc. (http://webdebs.org/).