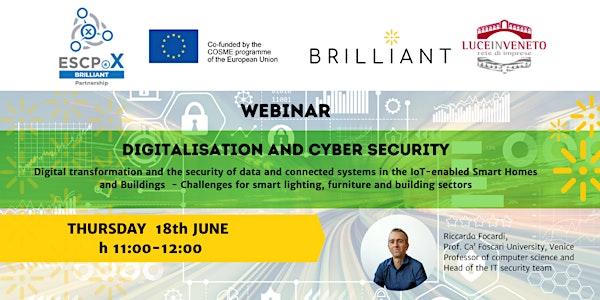 WEBINAR - Digitalisation and Cyber Security
Digitalisation and Cyber Security.
Informazioni sull'evento
WEBINAR - DIGITALISATION AND CYBER SECURITY
Luce in Veneto, as part of the BRILLIANT project(European Cluster Excellence Programme COS-CLUSTER-2018-03-02), proposes the following webinar about the Digital transformation and Cyber Security.
Digital transformation is investing all the Building sector and the security of data and networked systems is becoming a key issue in the new IoT-enabled Smart Homes and Buildings. The webinar will explore the challenges for smart lighting, furniture and building sectors of this revolution.
The general cyber-security approach in digitalised building
• How systems can be attacked ?
• Who are actors of cyber security?
• What are products on the market?
• Actions to conduct
• Legal aspects
• Certification issues
Speaker:
Prof. Riccardo Focardi, Ca' Foscari University, Venice.
Associate Professor of computer science and Head of the IT security team at Ca' Foscari University, Venice. Riccardo Focardi's research interests include: systems and networks security, analysis of trusted APIs and trusted hardware, encryption, automatic verification of security properties.
The meeting will take place in webinar mode through the Zoom platform, once you subscribe you will be sent a link to have direct access online.