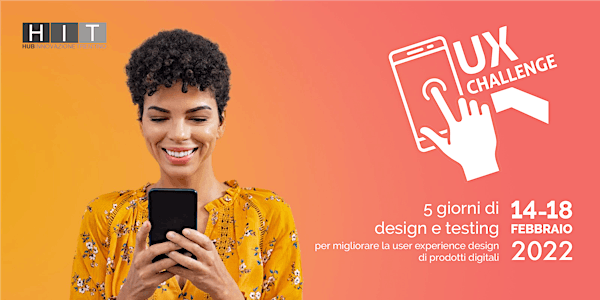 [UX Challenge 2022] Final event
The event will present the user experience design solutions produced by the solvers who participated in the 5 edition of the UX Challenge
Informazioni sull'evento
The event will present the user experience design challenges proposed by 7 companies and the solutions produced and tested by 60 solvers from the University of Trento, and testers who participated in the fifth edition of the UX Challenge, the innovation contest for accelerating the uptake of user-centered design methods in companies, organized by Hub Innovazione Trentino.
The event will also host a keynote speech by Giulio Michelon, entrepreneur and co-founder of Belka, a design and software development agency based in Trento.
Seven companies are participating in the fifth edition of the UX Challenge, from the ICT, manufacturing and service industries: BLM, ENERGENIUS, MARANGONI MECCANICA, PAMA, PERVOICE, SARTORI AMBIENTE, STARPOOL.
Solutions to the seven UX challenges will be presented during a final event, open to the public, which will be streamed online on Friday, 18 February, from 16:00 to 17:30. You'll receive the connection link via email. The event will take place in English.
AGENDA
• 16:00 – Greetings
• 16:10 – Introduction: Nicola Doppio, Innovation Officer at HIT
• 16:20 – Presentations of the seven selected products and UX design solutions
• 17:00 – Keynote: Giulio Michelon, CEO of Belka.
• 17:15 – Awards ceremony
The UX Challenge is an initiative of Hub Innovazione Trentino created in collaboration with the University of Trento, Fondazione Bruno Kessler, Trentino Sviluppo SpA, Istituto Pavoniano Artigianelli per le Arti Grafiche, Digital Innovation Hub Trentino Alto Adige / Südtirol, Confindustria Trento, with the support of Dolomiti UX BookClub and Architecta.