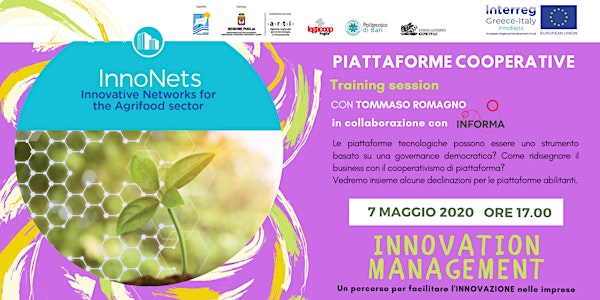 Training Session - PIATTAFORME COOPERATIVE Come ridisegnare il business con il cooperativismo di piattaforma
Descrizione
PIATTAFORME COOPERATIVE
Training session con Tommaso Romagno
In collaborazione con Informa Scarl
Le piattaforme tecnologiche possono essere uno strumento basato su una governance democratica? Come ridisegnare il business con il cooperativismo di piattaforma? Vedremo insieme alcune declinazioni per le piattaforme abilitanti.


..............................................................................................

La training session rientra nel progetto InnoNets, finanziato dal programma Europeo di Cooperazione Territoriale Interreg V-A Grecia-Italia, che mira a promuovere processi di facilitazione dell'innovazione a favore delle piccole e media imprese attraverso il confronto tra organizzazioni di ricerca, imprese, enti di governo del territorio e società civile. Il percorso prevede una serie di appuntamenti di confronto e laboratori formativi.

The training session is part of the InnoNets project, funded by the Interreg VA Greece-Italy European Territorial Cooperation Program, which aims to promote innovation and facilitation processes for SMEs involving research organizations, companies and public bodies, local government and civil society. The course includes a series of discussion events and training sessions.