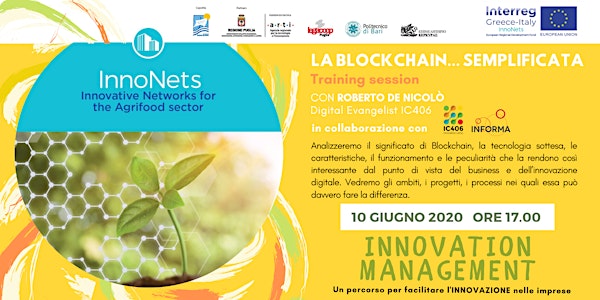 Training session LA BLOCKCHAIN.....SEMPLIFICATA
Training session LA BLOCKCHAIN......SEMPLIFICATA
Informazioni sull'evento
LA BLOCKCHAIN......SEMPLIFICATA
Training session con Roberto De Nicolò, Digital evangelist IC406
In collaborazione con IC406 e Informa Scarl
Analizzeremo il significato di Blockchain, la tecnologia sottesa, le caratteristiche, il funzionamento, e le peculiarità che la rendono così interessante dal punto di vista del business e dell'innovazione digitale. Vedremo gli ambiti, i progetti, i processi nei quali essa può davvero fare la differenza.
La training session rientra nel progetto InnoNets, finanziato dal programma Europeo di Cooperazione Territoriale Interreg V-A Grecia-Italia, che mira a promuovere processi di facilitazione dell'innovazione a favore delle piccole e media imprese attraverso il confronto tra organizzazioni di ricerca, imprese, enti di governo del territorio e società civile. Il percorso prevede una serie di appuntamenti di confronto e laboratori formativi.
Il progetto Interreg InnoNets, attuato da Regione delle Isole Ioniche, Regione Puglia ARTI Puglia, Politecnico di Bari, Legacoop Puglia e Camera di Commercio di Corfù, è finanziato dal programma Interreg V-A Greece-Italy.
..............................................................................................
Training session
"The Blockchain ..... simplified" with Roberto De Nicolò, Digital Evangelist IC406
"The training session will analyze the meaning of Blockchain, its technology, the characteristics that make it so interesting from the point of view of business and digital innovation. We will see the areas, the projects, the processes in which it can really make a difference. "
The training session is part of the InnoNets project, funded by the Interreg VA Greece-Italy European Territorial Cooperation Program, which aims to promote innovation and facilitation processes for SMEs involving research organizations, companies and public bodies, local government and civil society. The course includes a series of discussion events and training sessions.
The Interreg InnoNets project is implemented by Region of Ionian Islands, Regione Puglia ARTI Puglia, Polytechnic of Bari, Legacoop Puglia and Chamber of Commerce of Corfu. The project is financed by the Interreg V-A Greece-Italy program.